If you've ever been a TA (teaching assistant) in high school, you probably enjoyed little perks and the opportunity to take on more responsibility than the average student. Taking on a TA position in graduate school takes this position to a whole different level. Whether you plan on being a professor or simply want to gain invaluable experience, it is worth looking into what it takes to become a graduate assistant.
What is  a Graduate Assistant?
As the name suggests, students that take on the role of a graduate assistant basically serve as a mini professor. While a graduate assistant isn't actually a professor, much of the work performed by this type of teaching assistant is undertaken by professors on a regular basis.
Although the nature of the work varies from course to course, in general, typical duties graduate students perform include but are not limited to:
Grading papers
Assisting students during office hours
Conducting study/review sessions for exams and other tests
Teaching in small class settings
What are the Benefits of Becoming a Graduate Assistant?
Taking on the responsibilities of a graduate assistant isn't easy and the schedule can be demanding but it is well worth the reward. Below are just a handful of benefits that graduate teaching assistants can enjoy, should they qualify to be in such a highly regarded position:
Get Paid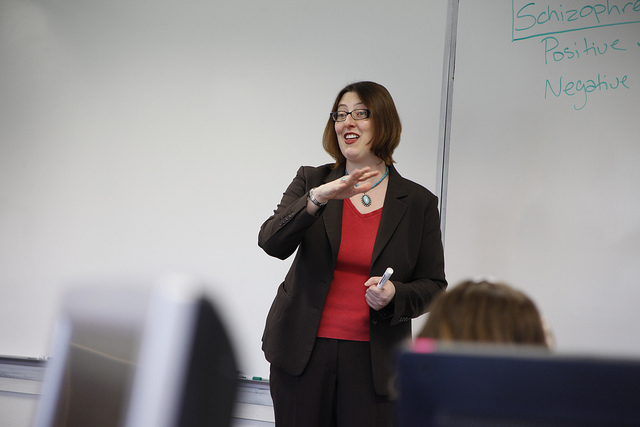 While traditional college internships are known for almost always being unpaid opportunities, participating in a graduate assistant teaching program does provide some form of compensation.
Depending on the graduate school program you choose to apply to–and if you decide to become a TA–the school will either give you the option to receive financial assistance to afford graduate school or the ability to be paid directly for your services.
If you're lucky, you'll have the chance to be a teaching assistant and have your graduate education paid for as a result.
Gain Experience
Even if you don't plan on becoming a teacher/professor, the skills and experiences gained makes for a wonderful addition to a resume. Nothing is more impressive to potential employers than a student that has taken the time and effort to give back to fellow students in a learning environment.
Being in a graduate assistant program serves to strengthen communication, improve multitasking skills, instill leadership characteristics and promote the importance of working in a team environment.
Develop Networking Connections
The saying, "It's not what you know, it's who you know" can also be applied to graduate students about to hit the workforce after finishing their degree. Being a TA is a surefire way to get to know professors and other academic staff on a more personal level, which increases the number of people that would be ideal choices to ask for letters of recommendation from.
In addition to having a great pool of resources to receive recommendation letters from, maintaining strong ties with the people a graduate assistant has worked with could open up the doors to possible employment opportunities that they may not have been aware of otherwise.