The SAT and ACT assessments are standardized tests for high school students planning to attend college or university.  These tests help colleges compare the abilities of students from schools across the country which may have important differences in curriculum and funding.  These college entrance exams are an important part of the college admissions process for prospective college students.  To some these exams are so important that cheating becomes the outcome to obtain higher scores.
In September 2011 an SAT cheating scandal broke out on Long Island.  About 21 persons were caught taking the standardized exams for high school students.  One university student was charging between $1,500 and $3,500 a student to take the exam for them scoring between 2,170 and 2,220.  This occurred for years before getting caught.  This university student was arrested for criminal impersonation, scheming to defraud, and falsifying business records.  Cheating on the SAT is not in itself illegal.  This case led to more investigations for other possible SAT scheme frauds and the results were 20 more students with criminal charges.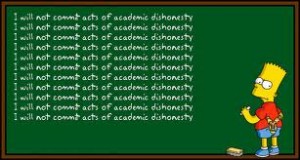 As long as standardized tests have been offered, there have been people looking for ways to cheat.  The Educational Testing Services, a nonprofit that administers and scores the exams, say they have to cancel about 3,000 scores each year from schools across the country for cheating, with about 150 scores canceled due to impersonation.
In response to this incident, new policies will be taking place when it comes to taking the college entrance exams.  The two companies that administer college entrance exams, the College Board and ACT Inc., implemented a new photo-ID requirement.
In the past, exam administrators required students taking the test to present a photo ID on the day of the exam.  Starting this fall, students will also have to submit a photo of themselves when they register for the test.
With today's focus on technology, students will have to upload a photo online or send it through registered mail with the registration for the exam.  That photo will be included with the admission ticket, which will need to be presented on the day of the exam.  Students must understand that the photo must match the student's appearance on test day or they will not be admitted into the testing area.
With this announcement of the new policy, there has been much dissatisfaction expressed for various reasons one being that it will deter participation of certain students.    The photo identifications that can be used will range from driver's licenses and passports to high school IDs, so cost should not be an issue.
The biggest problem may just be that it will not work, but after this incident something has to be tried.
Instead of cheating, do your best and study hard.  High school is a time to learn and grow.  Take full advantage of it and the rest will fall in place.