Your high school years have come to an end and you have made that all-wise decision to attend college.  You have been accepted to that college you hoped for and are ready to start.  The one thing you have not decided on is your major.
Undecided majors are very common with college students.  There are many things to consider when making your final decision.  Things such as what you enjoy, career choice, your interests, how hard or easy will it be to find a job after graduation and even starting salaries in different fields of study.  With today's economy choosing a major that can possibly aid you in obtaining job offers may be what you focus on.
Here are some of the more popular or common majors out there with the possible jobs that may be connected with them.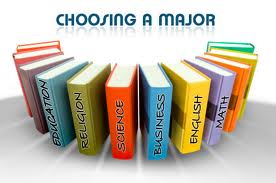 Biology:  Many students choose biology as a major due to its flexibility in possible career moves.  There are numerous areas from which to choose from when you have a degree in Biology.  Fields such as genetics, medical, research, ecology and even teaching are but a few of your possibilities.
A biology degree can also be a stepping stone to other advanced degrees.  With a graduate degree you can facilitate finding jobs in microbiology, biotechnology, healthcare, and research.
Business administration and management:  Business administration is a favorite for those looking for possible lucrative majors.  Usually graduates with a business administration and management degree are looking into assuming leadership roles, becoming managers, or executives.  MBA graduate degrees often follow increasing starting salaries for their perspective fields.
Computer Science:  Graduates in this major learn a variety of skills making a computer science degree useful for a number of careers.  Developing software, analyzing systems, advanced programs and network security are just a few skills you will learn.  You are looking at jobs like network analyst, database administrator and web developer.
Computer science is a much coveted major since technology seems to be developing and advancing in an exponential manner.  Many job opportunities are available.
Elementary Education:  Education is always a popular major because a good teacher is always looked for.  A child's education is extremely important, unfortunately, teacher salaries do not always indicate this.  On the up note work in this field can be sought throughout the country.
Nursing:  Nursing is the largest industry in health care.  Nurses are in high demand all over the country, even more so if you are a Registered Nurse.  When you graduate with a nursing degree you can choose the kind of care you wish to provide.  Choices range from home health care to becoming educators and patient advocates.
Political Science:  Political science majors have a variety of positions they can apply to from working for political parties in administrative positions or as analysts.  Some career paths that political science majors have taken are lobbyists and diplomats.  Also possibilities are work in the media or nonprofit organizations.
Many More
There are numerous majors you can pick from.  Take your time and make the best choice possible for you.  You are the one that will ultimately use it and benefit from it.