There are plenty of opportunities during those high school years for students to involve themselves in different extracurricular activities.  Students and parents usually ask themselves which extracurricular activities are most likely to impress college admissions officers when the time comes to apply.   This is a good question if students are already thinking about college, but first and foremost, they should choose an activity or activities that they have a passion for and will be dedicated in.  This will be evident to those college admissions officers through students' accomplishments within those activities.
There are a great many activities to choose from including outside community service activities.  Colleges do look at students' extracurricular activities, but there are a few things to keep in mind when considering what colleges want to see.
Depth over Number:  Colleges would much rather see a student's depth in involvement in one or two activities and not that he or she has a large number of extracurricular activities with very little involvement.
Love of the Activity:  When students do what they love to do it becomes apparent when they talk about their activities.  If they find themselves taking the lead, they have probably found the perfect fit for them.
Which Activity Stands Out:  Drama, music, martial arts, baseball, community service . .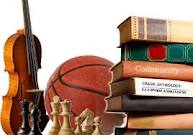 . anyone of these can be perfect for a college application.  If a student shows dedication, leadership and a passion, then that activity will be perfect on any resume.
Research College Extracurricular Activities:  It is a smart idea to look into which activities are offered at the school that students are interested in applying to.  If on the college application a student writes about how they wish to continue involvement in volleyball or a particular musical instrument, then make sure that the college can provide that opportunity.
Forms of Leadership:    Leadership in extracurricular activities can be seen in many different forms.  Organizing fund raisers, section leader in the band, associate director of the board, blog monitor, president of a club and much more can show that you can take leadership in certain aspects of life.  Colleges do look at this small aspect of extracurricular activities.  It shows that students are committed to what they do in and out of school.
There are a lot of things to consider when applying to colleges, extracurricular activities is a big part, but do not let your grades suffer due to them.  Grades and test scores are weighed significantly more when considering students for a college.  Do not get lazy and stay on top of your game.  Good luck.