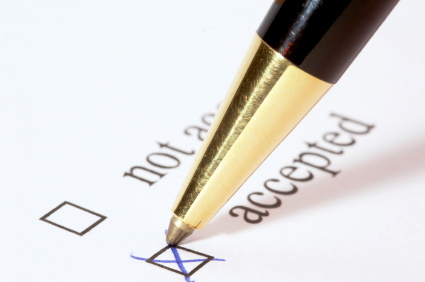 Your Senior year in high school and you are truly looking forward to a great year.  However, you are also a little stressed about those college applications.  Yes, it is about that time, you need to get on top of things and start filling them out.
There are a few choices that you do have when it comes to when you should submit those college applications, as long as it is not past the designated deadline.  You should look over your options and decide whether or not to apply Early Decision or Early Action, Regular Admissions or Rolling Admissions.  Each has some benefits and of course their downsides.
The following is a brief overview of these options:
Early Decision:  When a student applies as Early Decision, they will find out sooner if they have been accepted than if they apply through regular decision.  This sounds good, plus the percentage of students admitted through Early Decision is frequently higher than that admitted through regular decision.  If a student is not accepted as an Early Decision, their application will usually roll over into the regular decision pile.
All sound fine and dandy, but there are some negatives to this.  Realize that students that are accepted as Early Decision are locked into that school, they must attend.  Applicants sign a commitment saying that if they are accepted this way that it is the school of choice and they must withdraw all other college applications immediately.  Also, students may only apply to one college through Early Decision.  Students can still apply to other college, but it must be through regular decision.  Another undesirable trait to Early Decision is that it may hinder the college offer of financial aid or scholarships.  Students accepted as Early Decision must decide to attend that college before they know if they will receive a financial aid package.
Early Action:  Early action usually has the same time frame as Early Decision, except it does not binding contract.  Students have no penalties associated with not attending if accepted as an Early Action student.   As in Early Decision, students who are not accepted during the Early Action phase, their applications roll over to the regular decision pile.  Students can apply as Early Action to every college that offers this option.  If accepted, students do not need to make their final decision until May 1st, which allows time to visit campuses and consider financial circumstances.
The downside to Early Action is that students must have all of the necessary documents in order much sooner than for regular admissions.  They need to complete the SAT or ACT exam, have college essays written and edited, and have teacher recommendations ready to go.
Regular Admission:  Here students have a specified deadline (usually midwinter and are notified of acceptance, or the other, usually in early April.  Students have until May 1 to let the school know whether or not they will attend.  With Regular Admission, students have the maximum amount of time to submit an application.
Regular Admission students, though, may have somewhat fewer housing options due to the timing.  Also, priority registration for classes is given to those who were accepted Early Decision or Early Action.
Rolling Admissions:  There is a large window of time during which a student may apply.  The window may open in the fall and run through the summer.  There may be, however, definite deadlines for scholarship money, housing and other financial aid.  The school will continue to accept students as long as there is space available and students are notified of acceptance usually within a few weeks of applying.  The earlier the application is submitted with rolling admissions, the better the chance of being accepted as more space is available.
Students will have to weigh their options about which college they want to attend because the most selective college do not offer rolling admissions.  This option can also make students a little lax when it comes to applying thinking they have all the time in the world.
Your decision can be a little complex, but not impossible.  Ask for help.  Guidance counselors will give you more information about your choices.  Make an informed decision.  Good luck to you.