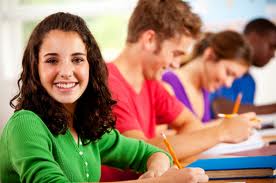 When you are considering what colleges and universities look at closest, your answer should be a good academic record.  A good academic record is probably the most important part of a strong admissions application.  However, a good academic record means a little more than just "grades."  Throughout your high school years make sure you consider what it really means to have a good academic record.  Here are a few important features to keep in mind when separating a good academic record from a weaker one.
Good Grades in Core Subjects:  Yes, good grades are a big part of it, but more so in core subjects.  Colleges like to see those A's on transcripts.  They will look at grades on an un-weighted 4.0 scale and often will recalculate your GPA to consider only core academic courses so that it is not inflated with classes like P.E., drama or metal shop.
Core Subjects Above Requirements:  Make sure to cover all the requirements needed.  Requirements do vary from college to college, so check in with the colleges you are considering to find out their specific requirements.  On average you are looking at:  4 years of English, 3 years of math, 2 years of history or social science, 2 years of science, and 2 years of a foreign language. (An extra year in each is recommended.)
Advanced Placement Classes:  Selective college want to see these course in your transcripts.  You do not need to overdo it, but show that you are taking challenging courses and doing well.  Doing well in these classes and earning a 4 or 5 on the AP exams are strong predictors of your ability to do well in college.
Community College Classes:  There are usually opportunities in high school to take actual college classes.  Taking a college writing class or math class while you are in high school will benefit you greatly.  First, you are proving that you can handle college level work and you are showing that you like a challenge.  Also, you are earning college credit that can help you graduate early, double major, or take more elective classes.
Do Not Slack Off Senior Year:  Even though your senior grades will not be seen before college make decisions about admission, but they will look to see which classes you are taking to make sure you are still challenging yourself in 12th grade.
Upward Trending Grades:  Some students start off high school slow and become good students part way through high school.  Low grades in those first two years may hurt, but not as bad as low grades in your last two years.  Colleges look for improving academic skills and not the opposite.