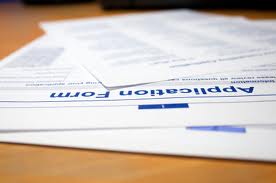 So you are planning on attending college.  Well, this is the month where you are probably freaking out about your college applications.  You are on the right track, just check and double check that you have everything that you need for your application including when things are due.  There are several things that you are going to need for getting that application finished including:  the application, high school transcripts, SAT or ACT scores report, letters of recommendation and one or more personal statements or essays.  Also remember that if you are applying for financial aid, it is a whole separate process that requires you to fill out separate forms.
Application
There are two ways to fill out an application, either by filling out a paper application or by applying online.  Most schools have you write in information about your family, your GPA, standardized test scores, and any extracurricular activities or awards that you have earned in high school.
Many colleges and universities are now accepting the "Common Application," which is a single form that you can fill out and submit to multiple schools.  This is meant to simplify the admissions process for students meaning that you do not have to fill out a separate form for each school you apply to.  Colleges are required to give equal consideration to students using the Common Application and to those using the school's own application.  You may have to fill out supplementary forms, so inform yourself on this through the school you wish to apply to.
Transcripts
Depending on the college you are applying to, you may need to have your high school send your transcripts direct or if you are allowed to send them, they must come from your school in a sealed envelope.  If the seal is broken, or if transcripts are not in that sealed envelope, your transcripts will not be accepted.
SAT or ACT Score Report
When you take that SAT or ACT, you can requests that a score report be sent to your prospective colleges.  There is a timeline on receiving these scores, so make sure to leave plenty of time for those scores to be processed and sent.
Letters of Recommendation
As you fill out your applications, think of who you want to write a letter of recommendation.  Colleges usually require two or three letters of recommendations from high school teachers or guidance counselors.
Choose someone who knows you well and can speak to your strengths.  Give those letter writers plenty of time to write a good letter.  A couple of months would be a good idea to make sure you have them in by the due date.  Remember, most likely your writers will be swamped with work and other students asking for the same thing.
Personal Statement or Essay
This part is probably the most time consuming aspect of your application.  It usually requires being about 300 to 500 words in length depending on the college.  You will be given a prompt or question on your application that you will have to respond to.  Write about a topic unique to you showing your strengths and passions.  Write several drafts and make sure to have one or more proof-readers.
Good luck to you and be sure to get everything in on time.