Anytime college education is discussed, the concept of "graduate school" almost always comes up. While not mandatory, it is helpful to know what grad school is designed for and whether or not its benefits could be an asset to getting you closer to your dream career.
What Exactly Is Graduate School?
Graduate school, more popularly referred to as "grad school," is a much more advanced form of obtaining a college education. Like undergraduate school, the end result of completing grad school is earning a degree. However, this is where the majority of the similarities end. Being accepted into a college or university's graduate school program means entering into a rigorous schedule filled with research, hands-on work experience and a more concentrated level of study in a particular field. There are grad school programs for different areas of study, which are offered by a majority of colleges and universities. You do not have to apply to a graduate degree program through the same school you're attending for your undergraduate studies.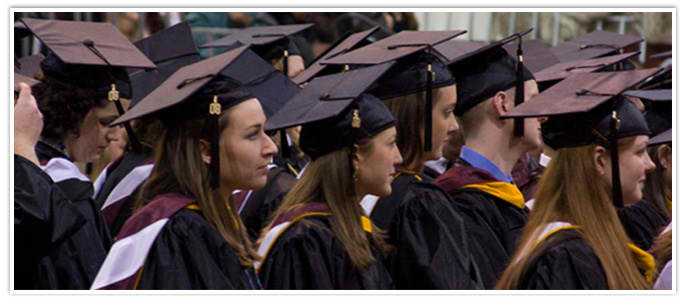 What makes this type of schooling different from a traditional undergrad college education is the fact that there are fewer electives and classes required. The class sizes are much smaller, which means more intimate and engaged interaction with other students and professors. However, the majority of your graduate school years will consist of being outside of the classroom, learning how to do research, gather information and put everything you've acquired into a final project of some sort, such as a dissertation or thesis paper. Participating in an internship, work experience program or assuming a teaching role is usually part of the process as well. This is for the purpose of developing a student's professional growth skills.
Finishing grad school means earning an advanced degree in a specific discipline or area of study. Such degree levels include a Master's degree, Specialist degree or a Doctoral degree. Most Master's and Specialist degrees take up to 2 years to obtain, while a Doctoral degree often requires 5-7 years of study and is considered the highest academic degree an individual can earn.
How Do You Apply? 
Because graduate school programs are so advanced, the criteria that must be met are very strict. Each program asks for different things but some general requirements include: having a strong GPA, letters of recommendation, passing the GRE (Graduate Record Exam) and nailing the interviews. Grad school programs want to make sure the students they accept are well rounded in their education, career goals and possess a good personality and work ethic. Not everyone that applies for grad school will be accepted.
Is Graduate School Right For Me? 
Only that question can be answered by each student individually. Below are some common reasons students make this academic leap:
Develop a better understanding of their desired career and/or improve their skill set
Gain a better work experience and improve their networking opportunities for employment
Gain the specific degree and skills needed for a particular job position
To boost earning potential and/or improve their odds for securing employment
Personal interest in advancing their education