Social media has become one of the most popular ways to keep in touch with friends, family and to connect with new people from all over the world. However, this phenomenon has also grown to become widely used in business related matters. College students close to graduation are encouraged to use this platform to improve their odds of snagging the career opportunity of their dreams.
But making the transition from using social media for leisurely purposes to business-oriented ones isn't always easy. Below are 4 ways college students can learn how to make their favorite social media outlets work in their favor, career-wise.
#1: Reorganize Your Groups/Lists
As you start adding more business-type connections to your "friends lists," it's important to begin organizing your lists properly. Sites like Facebook allow you to create "groups." While it can be tedious at first, utilizing groups is a great way to make sure you know which individuals fall into which categories.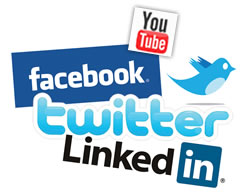 Lumping business contacts in with your family and friends could cause snafus, such as sending an email blast about non-business related subjects, which will obviously be of no interest to your business connections.
It's also vital to present yourself in a professional manner when connecting with your business contacts as well. Sending a crude or inappropriate message, photo or status update to such individuals without realizing it makes for a bad impression and could cause them to not consider you for future career opportunities.
#2: Showcase Your Interest in Your Career Field
Aside from being able to keep in touch with friends and tell people what's on your mind, social media sites are ideal for helping you stay on top of the latest news in all industries. Make it a point to sign up for RSS feeds, retweet articles or other resources that are relevant and of interest to the career path you're earning your degree in.
Believe it or not, the business contacts on your social media sites do pay attention to such things. Taking this extra step shows them how serious you are.
#3: Sound Off
Status updates are for more than sharing where you're at, what meal you've just eaten or commenting on the most recent celebrity breakup. Put your best foot forward and use your social media platform to talk about what matters to you, especially when it comes to your career-choice. Maybe you've seen a news headline related to your future career and you've got something to say…so say it!
Posting thoughtful, knowledgeable and insightful content is sure to get people's attention–and in a good way. Potential employers may be impressed enough to want you on their team.
#4: Don't Wait for Them to Come to You
Sure, social media makes it easier than ever for employers and recruiters to find new talent but you'll get faster results by making the first move, instead of waiting around for opportunities to come to you. Are there any specific companies/brands that you know you'd be a shoo-in for? Use the Internet to see if they have an online profile and get to networking!