If you are anything like me or many other people out there, you may be asking yourself, "Why should I go to college?"  This question may have popped into your mind whether you are in high school or you are retiring and considering other options or anywhere in between.  It is actually always a good question to ask yourself and then consider the positive effect it will have in your life.  Yes, I said positive because nothing but positive can come from furthering your education at any age.
Give it some serious thought and you will find the college will only improve your way of life no matter how you look at it.  As I thought about this question in my life, I looked around and gathered much information to help make my decision final.  Here are just a few of the considerations I took into account when deciding to go to college.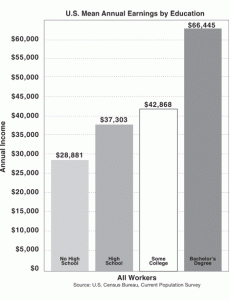 Better Paying Job:  Yes, this is pretty much everyone's first response when they think about furthering their education.  It's true though college graduates on average make more than those who only complete high school.  Statistically college graduates tend to have better job security.
Parents Expectations:  Ok, Ok, it is ultimately our own decision if we continue on or not, but come on, we all know that our parents have a great influence on us and we want to make them happy.
Change in Profession:  Maybe you are just fed up at work and want to change career paths.  College is perfect for that.  You may have to manipulate your schedule a little but it can be done.
Improving Your Social Skills and Confidence:  Attending college affords you the opportunity to meet people from all over the world.  Making friends with people you never thought about even striking up a simple conversation with and taking classes such as communications, speech or even acting will improve your social conduct and confidence within your community.  Hey let's face it, some of us really need these people skills.
Increase Your Understanding of the World:  Many of us grew up in one area and never venture out in the "real world."  We know very little about the world except maybe those darn rising gas prices and that the U.S. is involved in certain scrimmages here and there.  Attending college will give you the opportunity to take classes such as world history or others that will help you understand the past and comprehend the present and hypothesize on the future.
Start a Tradition:  I was the first in my family to attend and graduate college.  I felt it was a great accomplishment and felt a great deal of pleasure knowing it paved the road for the rest of my family.  Hopefully, it will become a family tradition.  (Three of four of my brothers graduated from the same University.)
Find Your Direction:  You do not need to know what kind of career you want to pursue, in truth, many young college students do not know.  In fact, I started in pre-med and after I finished my undergraduate studies, I went a different direction and received my master's in education.  Education was the way to go for me and that would have never entered my mind at the beginning of my studies.
These are just a few reasons to continue, but only you can make that final decision.  No one can force you to attend college, well, parents not included in that scenario in some cases.  You must really want this for yourselves.  Think long and hard about it, especially if you are in high school, you have your whole life ahead of you.  And remember, furthering your education does not necessarily mean "college."  There are vocational schools and community colleges that offer terrific options when it comes to continuing your education.  Good luck and may you make the decision that is best for you!