There is no shortage of art schools across the country, or number of aspiring artists that are eager to receive training to hone their skills/craft. Applying to these types of schools isn't exactly the same as applying to a traditional college or university.
In addition to the application, essays and academic documentation, a portfolio is almost always a part of the application process. In most cases, the portfolio ends up being the most important part of the package. Of course the process of putting together a portfolio to impress art schools can be intimidating. But with the right information, all artists can feel confident in their abilities when it comes time to showcase their work.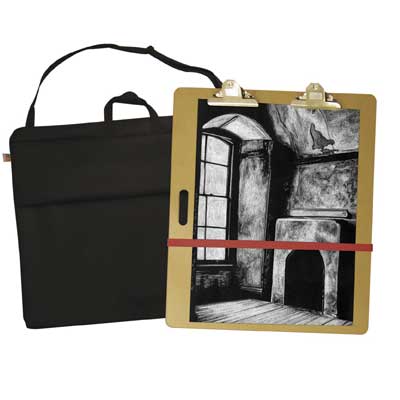 The good news is that potential art students aren't left on their own to figure out how to prepare and submit a portfolio. All art schools have specific instructions and guidelines when it comes to this subject.
The first step students should take is to review the portfolio submission requirements for each school being considered and prepare accordingly. Only provide exactly what each school asks for–no more, no less.
While not all art schools have the same guidelines, many of them have similarities. The most common forms of presenting a portfolio of a student's work includes the use of slides, disc/CD-ROM/video and original artwork.
Slides: Preparing slides for a portfolio means taking quality photographs of each piece and formatting it for use in a slide. There are many online resources that provide in depth information and instructions for doing this. Once the images have been formatted, label each one clearly with your full name, title of the work, the date and any other information that is required.
Disc/CD-ROM /Video: Some art schools prefer to receive copies of a student's work in the form of photographs that have been burned to a disc or CD-ROM. In other instances, video footage may be required. Make sure to follow all instructions/guidelines for submitting a portfolio in this form (i.e. time limits, compatibility specs, maximum size limit for files, etc.
Original Artwork: If an art school requires a portfolio to showcase an artist's original work, this will call for some TLC. Purchase a portfolio case that is large enough to hold various canvas sizes (for 2D pieces) and label each piece with your name, title of the work and date, along with a note about what medium the work was done in. Sculptors with 3D pieces should take photos of the work from all sides and angles. Do not include pieces that are torn or damaged.
Most art schools will ask for portfolios that fall under certain categories, such as personal and observational art. The names and types of these categories may differ from school to school but this information will be clearly explained in detail in the instructions/guidelines for submission.
In general, a portfolio may include work that covers one or more categories. Art schools are typically interested in seeing not just work produced in a school setting but personal pieces as well. This gives them better insight to an artist's style and skill set.