All interviews are important, regardless of what it is for. Most high school students don't have much experience in this category but if college is in the stars, there is a chance that their first encounter could be a college interview. Although colleges and universities typically receive way too many applications to be able to meet with potential students in person, there are many that hold these types of interviews in order to get a better feel about an individual.
While no one can predict exactly what questions will be asked during a college interview, studies done on this subject have identified common types of questions that college representatives like to ask. Below are tips on what students should keep in mind when trying to formulate their answer.
Questions About You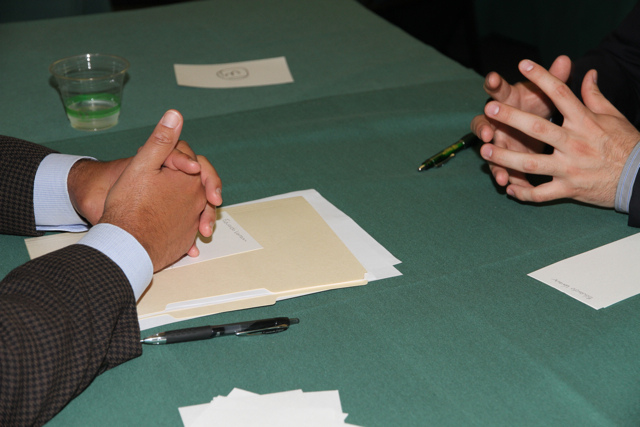 One of the main reasons interviews exist is for a person to get to know more about the interviewee that they don't already know. In the case of college interviews, a school needs to know that a student will serve as a positive member of their campus community.
Transcripts, applications and essays only tell so much and it helps to hear a student talk about themselves.
Common questions in this category include:
What words would you use to describe yourself?
How would your friends and family describe your personality?
What is your greatness strength? What is your greatness weakness?
When answering these questions, they want honesty. If you're talking about your strengths/positive traits, speak with humility, not ego. It's good to be honest about any weaknesses you have but don't spend too much time focusing on this aspect of your personality. When able, use examples to back up your statements.
Questions About Your College Goals
Colleges want to know about your college goals as it relates to choosing their school. This is very important to know and understand. Interviewers are interested in what future academic/career goals you have set for yourself, as well as what steps you plan on taking to achieve them. Obviously getting accepted into their school is one of those steps so they'll likely ask you questions about why you feel attending their school should be part of your plan.
Common questions in this category include:
What major/career do you plan on pursuing?
Why do you feel [name of college/university] can help you reach your goals?
What do you feel you can get out of attending [name of college/university]
The only way to answer these types of questions is to know something about the school, especially the degree program you're interested in. The more you know about the school and why it appeals to you, the easier it will be to connect the dots between your academic/career goals and why you want to attend that particular college.
This is a good way to show the interviewer that you've done your research and aren't treating their school like the others on your list of possibilities. Colleges know students apply to more than one school but they still prefer to be treated as if they're the only ones on your radar.