As a college bound student, you are most likely in the midst of completing your college applications.  Do not be deterred by the happenings around you.  Focus on what is important and finish all that you have to by those pesky deadlines.  Try not to slack off on any part of the application process, especially on that college application essay or more commonly known as personal statement.
The essay is an essential part of the application, providing you the opportunity to show your personality and to add life to your application.  There is much advice all over the internet, books and many other sources on how to write or how not to write this essay.  Choose that advice that you can work with to make that essay stand out.
The following are some pointers to try and make your writing process a bit more pragmatic.
Write about who you are, not what you have done.  This essay is not really an autobiography nor should it be an excuse writing session for poor grades.  Use the essay to show how you think, what you care about, and a little about your choices and judgment.  Think about the qualities you value in yourself and use your experiences to make that quality a tangible entity for your reader.
Do not freak out.  You have written many essays and this is no different.  You are basically using the same type of format as any other essay.  You are analyzing and using examples to support your idea, position or opinion.  In fact, in a way it should be easier than other essays being that you are intimately familiar with the subject, yourself.  You cannot go wrong with this topic.  Do not think about what the admission counselors want to hear, but instead write about what you want to tell them.  What do they need to know about you that they cannot find on your high school resume?  You are the foremost expert on yourself; let that be your guiding light.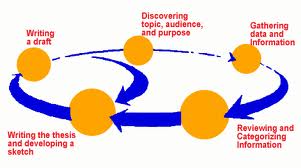 Make sure to give yourself time.  Think about what you want to write.  Talk about your ideas with your friends, parents, advisors or teachers.  As with any essay, go through the prewriting process to fully develop your point or points.  This essay will take some time to develop and write it is not a one-step process.  Make sure you give yourself the time to develop a well-written essay.
Plan, prepare and proofread.  Giving yourself enough time to go through the whole writing process including reflection, editing and having others proofread your work, will keep you from becoming overwhelmed.
Remember, strive to show the admission committee that you can write and think.  Focus, persevere and good luck.