Financial help for college can come from many places.  Scholarship is a good form of aid that does not have to be repaid.  A largely untapped venue of scholarships comes from entities that are not directly affiliated with local, state or federal governments.  These private scholarships can be offered by public and private companies, non-profits or private organizations.  Many companies big and small offer scholarships to attract and retain employees, support the communities where the business is located and encourage entrants into the business' field of work.  But due to a lack of applicants, these scholarships often go unclaimed.
These scholarships are available throughout the year and are based on varying criteria.  There are thousands of private scholarships out there.  The tricky part is finding them and taking the time to apply.

Pacific Gas and Electric Company (PG&E):  PG&E is dedicated to strengthening communities throughout California and to help this it started up its Bright Minds Scholarship program.  PG&E is awarding up to $1 million in scholarships to enable high school, community college and "non-traditional" students to complete a higher education degree.
PG&E will award up to $1 million in scholarships to enable high school, community college and "non-traditional" students to complete their higher education paths. Bright Minds scholarship winners will receive full-ride scholarships of up to $30,000 per year; program finalists will receive $2,500 towards their studies.
The PG&E Bright Minds scholarships are awarded based on a combined demonstration of community leadership, personal triumph, financial need and academic achievement.  In order to be eligible applicants must be enrolled in a full-time undergraduate program at an accredited two- or four-year college, university or vocational-technical school.
This year's application deadline is February 17, 2012 with announcements in the spring.
PG&E offers a wide variety of other scholarships also.  Take a look at their website for more information.
Dell Scholars Program:  The Michael and Susan Dell Foundation introduced the Dell Scholars Program which enables under-served students with financial need to achieve their greatest potential through higher education.  This program offers a substantial amount to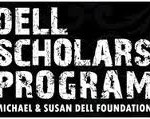 high school students participating in an approved AVID program.  The amount can be up to $20,000.  The foundation believes that funding a significant percentage of the college expenses will enable students to focus on their studies without the stress of financial worries.
Eligibility requires applicants to graduate high school the same year as applying and having a minimum GPA of 2.4.  Applicants must also demonstrate a need for financial assistance and be participating in a foundation approved college readiness program for a minimum of two years.  Directly after graduating high school applicant must plan to enter a bachelor's degree program at an accredited higher education institution in the fall.
Dell Scholars are students who demonstrate their desire and ability to overcome barriers and to achieve their goals.  The evaluation of the application will be based on how well the applicant shows or explains their individual determination to succeed along with future goals and plans to achieve them.  Also, showing self-motivation in completing challenging coursework and demonstrating need for financial assistance will be evaluated.
Look for next year's scholarship application.
There are numerous corporations and organizations ready to lend a helping hand.  Look for those scholarships there are countless others available.