Those starting college, although nervous, anxiously want to start.  One part of attending college, unfortunately, is that college students get stressed.  Stress is a very normal and usually unavoidable part of life especially for a college student, but it is also something you can take control of instead of the other way around.  There are many things you can do to relax and keep your stress under-control.  Many are easy and require very little time.
Tips on What to Do
Get some sleep:  College students usually have irregular sleeping patterns due to the amount of work and other college-life related reasons.  Getting some sleep will help you recharge and refocus.  This does not mean sleep all day; it could mean a quick nap or going to bed early.  Sleep can do wonders and may be all you need for those stressful feelings.
Exercise:  You may feel like you do not have the time to exercise, but if you are stressed try to find a little time to get a little exercise in.  This could be going for a long walk, a quick run, a gym workout and much more.  There are plenty of workout videos that can be done from 10 minutes to an hour.  There is a lot of ways you can get in some exercise to help with that stress.
Take a break:  You are going to be doing a lot of studying while in college, but remember your brain is like a muscle that needs to rest.  Take a break from that paper or lab you are working on.  Go out maybe see a movie with some friends or by yourself or go out with your friends.  Having a social life is a very important part in your college experience that can definitely help with your stress level.
Help yourself:  You may feel like you have many problems and at the same time you want to be a good friend to others helping them with their problems.  This in itself may be great for your friends, but it may be causing you undue stress.  It is ok to step back and focus on YOU!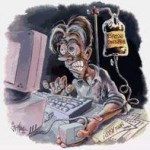 Sometimes we forget to take the time to help ourselves by just giving yourself some ME time.  How can you help others if you are so stressed that you may even be putting your academics or more importantly your health at risk?
Ask for help:  Do not be embarrassed to ask for help.  Your friends may not know you are stressed unless you talk to them.  Hey, they may be going thru the same thing and at the same time you are.  Most colleges also have counseling centers with counselors that can be extremely supportive.  Do not be afraid to call in an appointment if you think that might help.
There is only so much one person can handle.  Trying to fit in your academics, social life, campus organizations (clubs, fraternities, sororities) and make time for yourself can be overwhelming.  Remember why you are there and pass those classes.  Find the source that can help you best get a grip on that stress and use it.