Undergraduates in general, but especially Hispanics, African Americans, and women have been underrepresented in the fields of science, technology, engineering and mathematics (STEM).  Much attention has been recently focused on this important issue due to the impact it can imply to the future of our nation.  These STEM fields are growing, providing lucrative jobs, and key to future American competitiveness. This is why everyone from President Obama to the United States Chamber of Commerce is worried about whether we're producing enough STEM graduates from our colleges and universities. Without more highly trained professionals in these fields, can we imagine full economic equality and opportunity or let alone a sustained economic recovery in a competitive world?
High school graduation rates are only about 75 percent overall (and 64 percent for Hispanics and 62 percent for African-Americans).  This alone causes a loss of a lot of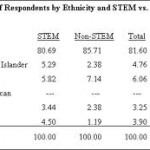 potential STEM students long before college.  And those who are graduating high school are not taking the math and science courses necessary to pursue a STEM career. Experts estimate that only about one-third of graduating high school students are genuinely college-ready.
5-year Initiative in STEM

There was an announcement by the Association of American Universities (AAU) of a five-year initiative to improve STEM education at the undergraduate level.  Highlighting this announcement was the fact that over 40 percent of entering college freshmen who planned to major in a STEM-related field changed to a non-STEM major by graduation.  This enterprise is to make progress in producing more professionals in science and technology.  Support of some sort must be given to students desiring a career or degree in a STEM discipline including having highly trained and inspirational K-12 science and math teachers.
Who's Problem
Much of this responsibility lies with the individual colleges and universities being that part of the mission include recruiting, educating and graduating the STEM professionals of the future.  Many schools are working to improve the quality of instruction and creating opportunities in the STEM fields for young students.
What Has Been and What is Being Done
Math For America provides $100,000 fellowships for math teachers and Partners in Science gives science teachers the opportunity to undertake actual scientific work at national laboratories during the summer.  This will expose students to STEM fields early on and the use of scholarships can be inducements for them to choose STEM careers.  It can also enable students to experience science in a different fashion from which they are accustomed encouraging them to take on a STEM major.
One university that has put into place an initiative forward for such advancement is the University of Illinois at Chicago, with the hope others will follow.  Groups such as the National Society of Black Engineers and the Society of Hispanic Professional Engineers at UIC have actively been trying to attract and retain students in engineering programs.  UIC has also partnered with the Noble Network of Charter Schools to create UIC College Prep near their campus.
Programs such as UIC's can lead to students who are well-prepared academically and are aware of the career opportunities available out there in sciences and mathematics.
The Future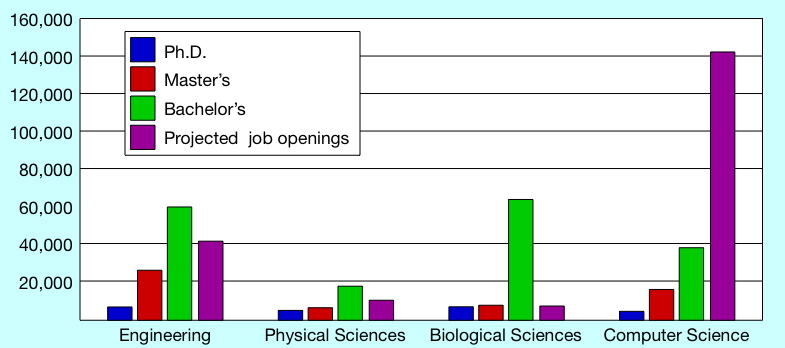 Hopefully you are a parent or a student who is reading this early in your child's or your academic career and with any luck you may consider the importance in a STEM related career choice.  There is a lot of information and help out there.  Taking on such a field can only open many doors to your future.