In these rocky economic times the workplace has dealt with its own set of challenges over the past few years. Employees hoping to increase their odds of job security will find that earning the right certifications is one of the best ways to go about solidifying their position within their company.
However, certification exams aren't easy and for working professionals that have been out of school for quite some time, studying and acquiring the proper materials could be challenging and even overwhelming.
It is important to remember that not all of the certification study exam methods are right for everyone. The criteria for choosing the most appropriate method should include your lifestyle, work/home schedule and your learning preferences.
College Textbooks
There are plenty of hard copy books that cover all of the nitty gritty content that will appear on the certification exam you're studying for. From practice tests to a full break down of the test subjects, having hard copy books to work off of are ideal for studying at home, during your lunch break or wherever you happen to be. These books can be found at any major bookstore, library and even ordered online at a discounted price. Additionally, almost all of the books contain a CD ROM filled with interactive content and other useful resources.
Study Groups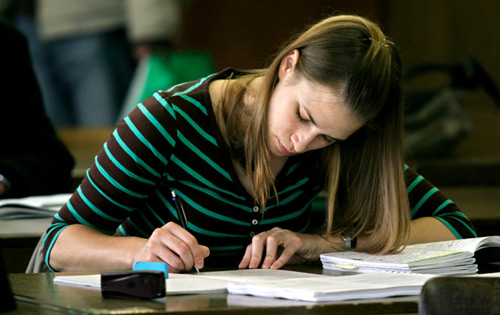 What better way to prep for your certification exam than by organizing a study group with your peers? Depending on your field, chances are there is at least a handful of fellow coworkers that are in the same boat. Set up study sessions once or twice a week. This method is great for being able to ask and answer questions, as well as receive help from others within the group. There's always power in numbers!
Online Training
Do you study better solo and have an affinity for being online? There are a score of certification exam study materials and programs available in an online training format. These sites allow you to study at your own pace and also monitor your progress. While it may be a bit pricey, depending on what type of program you enroll in, it is a convenient and effective way to learn the exam content in an interactive way.
Classroom Instruction
Taking a class at a college, university or local community college provides test takers with one-on-one instruction with a professor that knows the certification course and exam inside and out. To accommodate the working professional's schedule, these classroom instruction courses typically take place in the evenings, as well as on weekends. The content is spread out over the course of a few weeks and covers the certification exam in depth.
Bootcamps
Those that just want to dive right in and get things over with will find signing up for a certification bootcamp program more to their liking. While expensive, these bootcamps throw test takers into the material and interaction with an instructor for 12-18 hours per day. This method comes with not just classroom instruction but labs and the opportunity to take the certification exam after the crash course is completed (usually 1-2 weeks).