Pursuing a career in the field of Veterinary Medicine requires more than just a natural love for all animals, big and small. While the training involved isn't as extensive as that of a traditional doctor, students hoping to find themselves employed as a vet tech do have their work cut out for them. However, the benefits that come with this career decision are very rewarding.
Job Security
College students are becoming more concerned about whether or not the field they're studying for will provide a job market that is actively hiring upon graduation. Future vet techs will be happy to know that Veterinary Medicine is one of the few industries that doesn't struggle to keep employment rates up, even during a recession. Despite even the toughest economic times, people still go out of their way to provide top quality care for their pets. For practices that do extremely well in regards to the number of patients they have on a regular basis, an entry-level vet tech can find themselves in a fast-paced environment, surrounded by a variety of animals that require the best care and medical attention.
Flexibility in Work Environment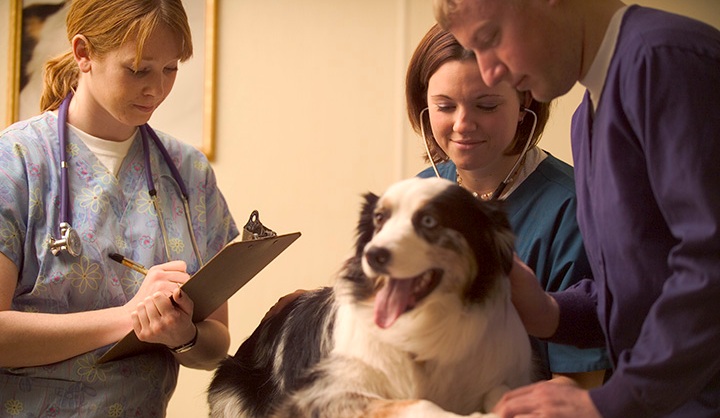 Surprisingly, vet techs have a handful of options for places of employment aside from simply working at the local veterinarian's office. Depending on an individual's training, background and area of specialization, a vet tech has the ability to work in settings such as an animal shelter, at a research facility, stable, boarding kennel, government agency, animal grooming facility, wildlife conservatory, as well as the zoo.
No Boring Work Routines
Those that find themselves happier in work environments that don't limit them to office settings, will find the career path of a vet tech to be challenging and always changing. From the advancements in technology and medical procedures, to interacting with various animals and performing different tasks, no two days in this type of job are exactly the same. There is a combination of being able to work indoors, as well as in the field.
Some common job responsibilities that come with being a vet tech include but are not limited to: running lab tests, performing and developing x-rays, assisting veterinarians with regular tasks like dental cleanings and spaying/neutering, obtaining and maintaining medical records for animal patients, providing care to animals and performing vaccinations.
How to Become a Vet Tech
Contrary to popular belief, the duration for training to become a vet tech isn't extensive. Entry-level vet techs typically obtain a 2-year Associate's degree in order to get their foot in the door, job-wise. It is best to seek this degree from an accredited veterinary technician school, which combines classroom instruction with clinical/laboratory training. After earning their degree, vet techs must take and pass a credentialing test, which is required in all states. Once credentialed, vet techs will have to follow further requirements/guidelines as set by their respective state to properly begin practicing in the field. These requirements may include obtaining a license, getting registered for their profession or earning certification.