Before buying a home, car or checking out a movie, most people turn to review sites to find out what other people's experiences were like. Why not do the same for college professors? A common experience students share is enrolling in a course, only to come face-to-face with a nightmare professor.
Whether he/she is a tough grader, has an off-putting demeanor (or is just downright mean) or exhibits strange quirks, walking into a class with no previous knowledge of what one is getting into can be an unpleasant surprise, especially if the course is one a student really needs and/or they can't get into a different section taught by someone else.
For a few years now there have been review sites that serve to prevent such unpleasant surprises when it comes to choosing courses and the professors that teach them. But how reliable are such sites and is it really fair to the professors?
What Are Professor Review Sites?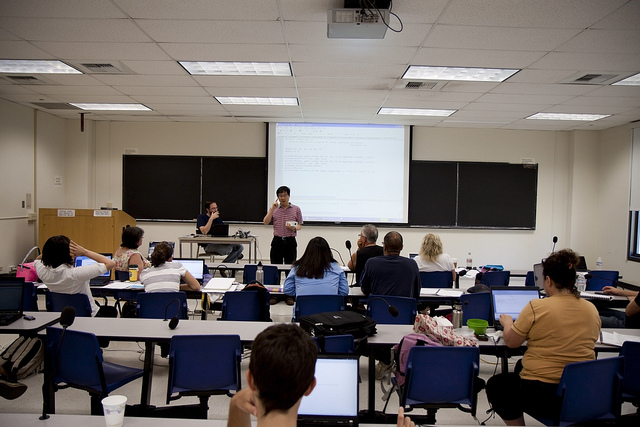 Just as with any traditional review site, those that target college professors basically offers students the opportunity to read through personally written reviews, that rate a professor's teaching skills, performance and other related attributes. While such a resource can be insightful, it is important to use these sites wisely.
Don't Take Them Too Seriously
It is important to keep in mind that while review sites do their best to provide objective information, there is always room for bias, especially when it comes to negative reviews. It is fairly easy to spot the reviews written by clearly bitter students that have a personal issue with the professor.
If there is a particular professor you're curious about, there's no harm in entering their name on a professor review website and seeing what comes up. Should reviews for that individual exist, make sure to read as many of them as you can. When looking at negative reviews, weed out which information is relevant to the professor's teaching abilities instead of the typical, "He's so mean," "He always gives me low marks," type of comments.
Use Review Sites as "A" Resource, Not "The" Resource
There are instances where review sites for college professors are able to put students on to which professors are pleasant and which ones are academic boot camp instructors but solely using this resource to make decisions on which courses to choose isn't smart. Review sites should only be a part of your research, not the basis for your final choice.
Get the 411 Straight from the Horse's Mouth
Sure, professor review sites may contain a lot of information about various individuals but for the most accurate picture it is usually best to ask the students around you on campus. Do you know of anyone that has taken the course(s) you're about to enroll in? Pick their brain for a few minutes and ask what they liked and didn't like about the course and how it was taught.
Find out if they'd recommend that particular professor to you. It also helps to get the skinny on what their personal interaction with the professor was.