Certificate programs have quickly become a viable solution for many people when it comes to reaching their career goals. What makes certificate programs so effective are three main factors:
Specific focus on a particular subject/skill set.
A timely way to receive training.
Can be very beneficial when utilized by working professionals.
The number of certificate programs available through colleges and universities continues to grow each year, as new skill sets and in demand job positions appear in the workplace. Individuals favoring distance education will find even more options to choose from. Below are some of the latest certificate programs students and working professionals alike can take advantage of.
Title: Supervisor Certificate Program
School: The University of Texas at Austin
Description: Employees that have just been promoted to supervisor or who have goals to reach this position, will find the Supervisor Certificate Program an ideal way to acquire the specific skills and knowledge required to be successful. Even current/experienced supervisors can benefit from this program in order to brush up on their skills.
Through a combination of in-class instruction and online learning, students will be introduced to simulated daily situations they can expect to encounter in the workplace. Areas of focus include but are not limited to: strategies for proper conflict resolution, developing a deeper understanding for the position's role and responsibilities, gain a better understanding for the employment laws and how to implement them and strengthen communication skills.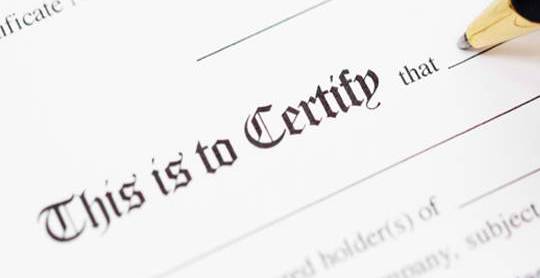 Title: Teaching Artists Certificate Program
School: Purchase College, SUNY
Description: Artists that wish to use their talents to teach students in a classroom environment can reach their goals through the Teaching Artists Certificate Program. The program was designed specifically to give artists with no previous teaching experience the opportunity to develop the techniques needed to effectively interact with students in a classroom setting. Students in this certificate program will gain the training and skills required to teach the arts to elementary school students all the way up to the high school level.
Some of the topics the certificate program focuses on include: experiencing the day-to-day operations of working as an instructor in residency, building the capacity to work not just with students but other teachers, understanding the differences of teaching within a traditional classroom setting and community setting, and how to implement the best practices for supporting the arts through hands-on learning.
Title: Infant/Toddler Educator Certificate Program
School: Smart Horizons Institute
Description: Anyone with the hopes of pursuing a career in Child Development will find the Infant/Toddler Educator Certificate Program as a great starting point. The program is a combination of online learning and in-class instruction. Gaining this type of certification also meets one of the training requirements needed towards earning a Child Development Associate Credential, including earning 120 hours of professional development.
Students in this certificate program will learn how certain techniques influence an infant/toddler's physical and intellectual competence, build an understanding to allow for the support of an infant/toddler's emotional development, how to properly respond to a child's needs and how to incorporate positive guidance and behavioral influences into a program.