The idea of joining a fraternity or sorority is definitely exciting but if students don't know what they're getting into beforehand, they could be in for a surprise. In general, most people think of rush weeks, initiation ceremonies and the parties/social events these organizations are known for throwing. However, there is a whole other aspect to becoming a part of this type of family and it has to deal with finances.
College fraternities and sororities are organizations that can't operate without funding, which means a Greek life isn't free. The most common types of financial commitments that come with being accepted into a fraternity or sorority are membership dues but that isn't the only part of the lifestyle that students are responsible for keeping up with.
Below are brief descriptions of the types of financial obligations that come with the Greek territory.
Membership Dues
As mentioned above, all those accepted into a frat or sorority are required to pay membership dues. The actual amount varies from house to house, which is why it is important to find out early on how much those fees are. The funds collected are put towards a number of uses, including but not limited to:
paying for social activities and gatherings
house maintenance/upkeep
expenses related to the chapter/organization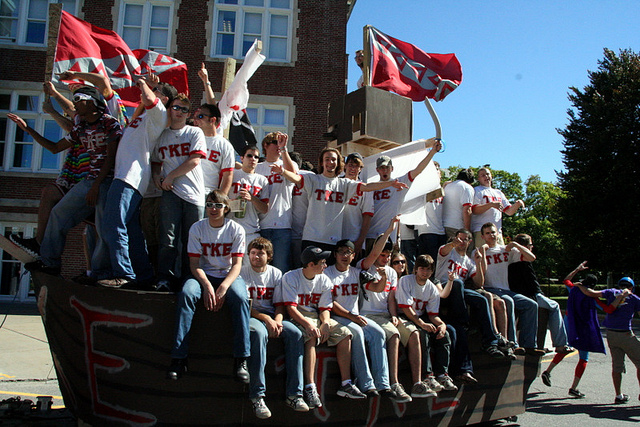 The amount for dues can range from a few hundred dollars per year to over $1,000 per year.
Fees for Pledging & Initiation
Unlike membership dues, the fees associated with pledging and initiation into a fraternity or sorority are one-time fees. But this is still an expense students should be prepared to pay for when the time comes.
Charity Donations
Regardless of what kind of Greek life a student has chosen (service, honorary, social, etc.), charity of some type is going to be commonplace. In addition to signing up for volunteer opportunities, many Greek chapters expect its members to also contribute a donation to their designated charities, causes and/or platforms.
Miscellaneous Living Expenses
Once a new member is allowed to move into the chapter house, it means being responsible for the costs that come with it. The details of expenses related to living in the chapter house will be explained to new members early on but it doesn't hurt to inquire about these costs early on during the rush week. Some chapters offer meal plans for members living in the Greek houses, which may or may not be factored into their dues. For houses that don't provide meal plan options for members, this means students are on their own to budget for food and related items on a regular basis.
Before taking serious steps to be considered by a frat or sorority, students should make it a priority to find out what the potential costs of joining will be not just in the short term but long term as well. Knowing these numbers will help future members figure out how to organize their budgets and learn how to afford this kind of expense in addition to their other college related costs.