The Common Application is one document that has made the lives of many college bound students much easier, not to mention less stressful. Instead of submitting a separate application for each college or university of interest, the Common Application streamlines the process so that a single document can be submitted to as many schools as a student wants. With over 450 participating colleges, students no longer have to dedicate hours to preparing each submission individually.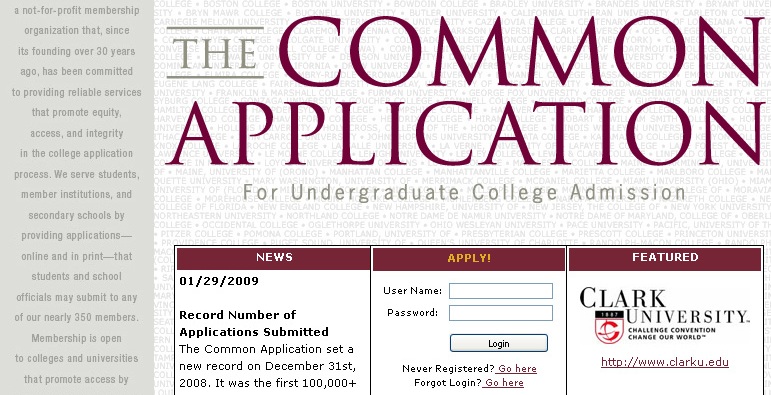 The Common Application has been around for over 30 years but is about to undergo a makeover that is sure to make this convenient method even more of a breeze to complete. Although this strategy for college admissions is highly favored by many students, the form isn't perfect and has its own share of issues that applicants have had to deal with over the years. One such problem has been the long list of questions that applicants are required to answer–many of which are not applicable to all students. Others include issues with long answers, which could end up getting cut off once a college admissions official gets a hold of the application, or confusion as to which options should be checked for certain parts of the application, such as race/ethnicity.


The new version of the Common Application is set to replace the current form in 2013. Below are the most notable changes that many soon to be college students and their families undoubtedly will be eager to take advantage of:
A new electronic form. Although the online method of completing the Common Application has been in place for quite some time, this newer, enhanced version will replace the current one completely and feature some nifty improvements that applicants will be sure to take notice of.
Displaying relevant questions for applicants. The current application displays a long list of questions online that students must tediously go through and answer. However, the Common Application for 2013 will simplify things by only showing one or a small handful of questions at a time and using the corresponding answers to determine which set of questions to display next that are relevant to the applicant.
Helpful prompts. Instead of students submitting online Common Applications that may have answers cut off or incomplete, the 2013 version will display pop up boxes, prompting applicants to preview their application to identify areas where such issues can be corrected before submission.
There are a few changes that have yet to be officially approved for the new application but are on the table for the time being. Such potential changes include allowing students to submit questions online to a group of college counselors to address certain areas of the Common Application they may not understand, as well as the possibility of making the electronic form easier to use on devices like the iPad.
The decision to makeover the Common Application is one that will cost $7-8 million but is deemed well worth the investment. Implementing the new form will improve the ability of the system to accommodate the millions of online applications received each year, as well as encourage more colleges and universities to accept this type of application.