People often say, "It's the little things that count/matter." In terms of business, this couldn't be any more true. Something as small as a thank you letter speaks volumes. For college students, mastering this piece of communication can open more doors than one would have thought possible.
Although the methods of communication have changed dramatically since the creation of the Internet and society's fascination with social networking sites, certain things remain fairly traditional. Thank you letters definitely fall into this category.
College students should learn how to write proper thank you letters and the etiquette that comes with this subject sooner than later, especially when it comes time to begin applying for interview opportunities such as internships, scholarships and job positions. Below are some of the most important guidelines for writing this type of letter.
#1: Reply in a Timely Manner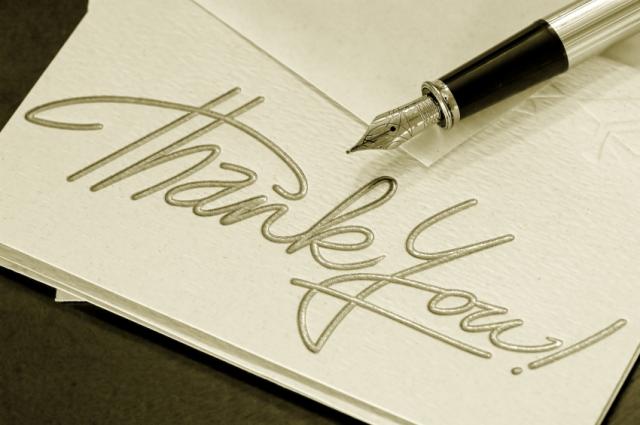 The worst thing any student can do is wait too long to send a thank you letter to someone.
The ideal time frame is between 1-2 days. Any longer and you've already missed a crucial window of opportunity to make a positive lasting impression.
There is no harm in sending a thank you letter too soon–it shows the recipient you've got initiative and that the opportunity at hand is very important to you.
#2: Pick the Right Method of Communication
When attending an interview, you'll come away with the contact info for the person you've spoken to, in most cases. The type of contact information provided should determine how you choose to send your thank you letter. While you can't go wrong with sending a handwritten letter via traditional mail, in many situations it is acceptable to send a thank you email.
Snail mail is reliable but if the company where you interviewed with is large, it might take a while for your letter to reach the intended recipient. While rare, there is the chance that a thank you letter could get lost, misplaced or sent to the wrong person. Again, let the contact info you have dictate how you'll submit your letter.
#3: Say It Right
Even though thank you letters aren't mean to be lengthy, it is essential that this piece of writing is worded properly. There are plenty of samples to use for reference online but in most cases an effective thank you letter is one that:
– Literally "thanks" the person for his/her time
– Mentions the purpose of the meeting/opportunity at hand
– Briefly talks about how excited you are to be possibly considered for whatever the opportunity is
– Reminds them that they can contact you if they have any further questions or concerns
#4: Send a Thank You Letter Regardless of the Outcome
Doing a great job during the interview and knowing you'll more than likely get hired doesn't mean you're exempt from sending a thank you letter. Taking this action will reassure the recipient that you are the right choice.
Even if you don't get hired, send a thank you letter anyway. This shows how professional you are and showcases a good attitude.