The word "design" is now used to describe a number of things: web design, interior design, graphic design, etc. Students with goals of becoming professionals in the design field will find a number of advantages that come with enrolling in online design classes. Just a few of those benefits are listed below:
Comfort Level
While the traditional pencil and paper process is still utilized in the design field, having the option of taking online design classes is ideal for students who feel more comfortable with creating their art digitally. These days there are more software programs for design than one can keep track of. Online art schools offer the latest, most up-to-date technology for their students. Pursuing a design degree or certificate program means accessing all learning materials and resources online, which will make any tech savvy student feel right at home–not to mention the convenience of completing their coursework right from the privacy of their own home.
Stay Ahead of the Game
With the right school, students have the opportunity to be exposed to the latest software and technology trends as they relate to the design field. Online design classes for illustration, graphic design, web design and computer aided design all require students to have hands-on experience with using various software design programs, features, tools and how to use everything they've learned to create their own project from scratch. Having the chance to learn such programs automatically gives them an advantage once they hit the job market. Graduates come into the workforce with fresh knowledge of design programs that employers are actively seeking.
Build a Strong Portfolio
Regardless of the type of art a student wishes to specialize in, when it comes to attracting prospective employers, it is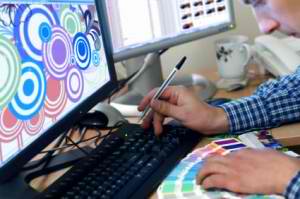 essential for graduates to have a collection of their strongest work in a professional portfolio. Online design classes not only show students how to use design programs but how to come up with their own concepts and designs. The finished works produced through such classes are of high quality and ideal for showcasing in a portfolio. By the time a student graduates from an online art school, he/she will have amassed an impressive group of work that highlights his/her talents.
Link to Other Fellow Artists
Opting for the distance education route doesn't have to mean you're completely on your own. Through forums, chat and other interactive features, students have the chance to communicate not just with their instructors but other classmates as well. Online design classes allow students to make new friends who share the same interests and also promotes a sense of community where ideas and feedback can be exchanged. Those already comfortable with working virtually will find this aspect of their online education very appealing.
Maintain Your Lifestyle
Enrolling in online design classes means no daily commute or the need to deal with finding a parking space and spending hours in a classroom. Distance education offers the best of both worlds, where students can accomplish their educational goals without interrupting their daily routine. This is especially beneficial for students who also have jobs and/or a family to take care of.