Students thinking about pursuing a degree in Engineering have a lot to look forward to. Although obtaining this type of degree isn't easy, the rewards are great, especially after graduation. The field of engineering is exploding in terms of job growth and depending on one's skill set and specialty, there is the potential for advancement in a variety of engineering careers. Future engineers that are eager for a challenge with numerous benefits will definitely want to think about the option of pursuing a co-op program.
What is a Co-Op Program?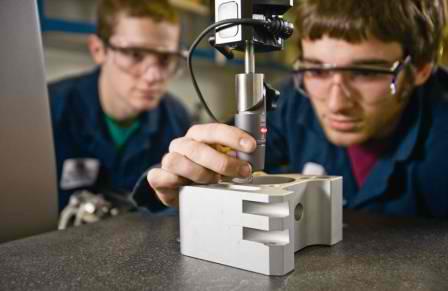 Also referred to as a "dual-degree," participating in a co-op program serves the purpose of allowing a student to graduate with two degrees. This arrangement is very common for Engineering majors and gives students the chance to acquire the skills and training needed to find a job in the field, as well as gain real-world experience by participating in internships and other related activities.
How Does a Co-Op Work?
The first step in a co-op program is for a student to enroll at an engineering school, where they'll study their major for three years. The next step in the process requires transferring to a different engineering school, where they'll continue their studies for an additional two years. However, for the dual-degree program to be accepted, the second school must be a participant of (and offer) a dual degree program as well. It is important that engineering students know for sure that both schools they plan on doing a co-op program for are on the list of participating colleges.
There are currently over 30 engineering schools that offer dual-degree programs for students. They include:
Alabama A&M University
LaGrange College
Berry College
Georgia College & State University
Jacksonville University
Xavier University
Benefits of Completing a Co-Op Engineering Program
Finishing a co-op engineering program provides many great advantages for graduates. One of the most notable benefits worth mentioning is the fact that students who complete this type of program are able to graduate with two Bachelor's degrees. Oftentimes, students will opt to earn two different types of Bachelor's degrees (a B.S. and B.A. for example). Aside from having bragging rights, obtaining two different degrees means plenty of flexibility in terms of potential employers and job positions.
Another advantage is that co-op engineering programs allow students to complete their studies in less time. Traditional engineering degree programs typically last 7 years or more. However, through a dual-degree program, graduation is possible within a 5-year period. Not only does that mean getting into the workforce sooner, it helps save money in the long run in terms of tuition and fees and other related expenses.
Needless to say, graduates of a dual-degree program for engineering also make for the prime candidates employers consider during the hiring process. Nothing is more impressive to an engineering company or firm than an individual that has demonstrated how much they care about learning their craft. In addition to standing out among the competition, those with dual degrees tend to be the highest earners in their positions as well.