At first glance, intramural sports teams offered at colleges and universities might not seem worth looking into–especially for students that take athletics seriously. But despite the fact that intramural sports teams do not typically compete on as professional of a level as other types of college sports, there are a handful of advantages that can benefit students.
Although serious athletic students will more than likely stick to the professional teams, if offered at their college or university, those with a fondness for leading an active lifestyle can find that need fulfilled through intramural sports. There are alternatives to staying in shape while pursuing studies, such as visiting the campus gym/fitness center or including a physical education course in a class schedule. However, this type of routine might become mundane after a while.
Students looking for more of a challenge and a more traditionally competitive way of approaching sports will definitely want to look into what types of intramural teams their school has to offer.
Great Way to Make New Friends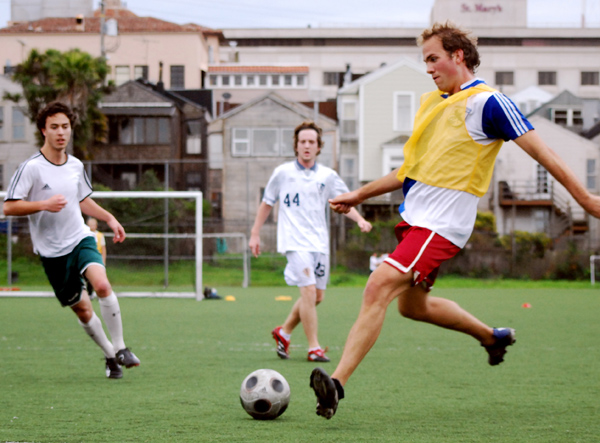 It's natural to make friends with people in class but through intramural sports, students have the opportunity to create new relationships with not just fellow peers but people that are also interested in athletics.
This is a great way for students to expand their circle of friends with individuals that have more in common than just discussing the latest reading assignment.
Additionally, being on an intramural team gives students the chance to work their way up to leadership positions, such as team captain.
Fun Way to Break Routine
Taking a physical education course is a creative way of incorporating exercise into a class schedule but some students might feel a sense of obligation and routine, which could cause them to lose their motivation after a while. Intramural sports, on the other hand, offers a flexible schedule of games and taps into players' competitive nature.
It goes without saying that participating in a series of games is much more fun, compared to working out in a gym or going through routine exercises during a physical education class.
Best of Both Worlds
Students that enjoy playing sports but not at a professionally competitive level will feel right at home on an intramural team. Joining an official college team means committing to a rigorous schedule of not just games but practices and training sessions. The stakes are much higher at such a level but not all students that want to play sports want to get that involved.
Intramural sports offer the best of both worlds: it gives students the chance to play their favorite sport and be on a team but without the need for dedicating part of their academic life to it.
Aside from the health benefits and social opportunities they provide, intramural sports teams are ideal for developing strong characteristics that carry over well into the workplace, such as communication, working in a team, delegating tasks and setting common goals. In some cases, listing this type of activity on a resume could come in handy as far as showing potential employers how diverse an individual's interests are.