Not very many students go through college without some form of financial aid assistance. Depending on the type of assistance received, students may or may not have to deal with things like entrance and exit interviews. Students relying on scholarships and grant money won't have to worry about these types of interviews but those that have student loans will.
Entrance and exit interviews serve a purpose and it is important for college students to understand why these interviews are necessary, as well as why each meeting should be taken seriously.
What is an Entrance Interview?
During an entrance interview first-time student borrowers are given a crash course into the world of student loans, how they work and what is expected of them as a borrower. When dealing with federal loans, lenders and schools want to feel confident the student borrower is fully informed about how these types of loans work. The purpose of the entrance interview is to make sure all questions get answered and that the student borrower has a complete understanding of things.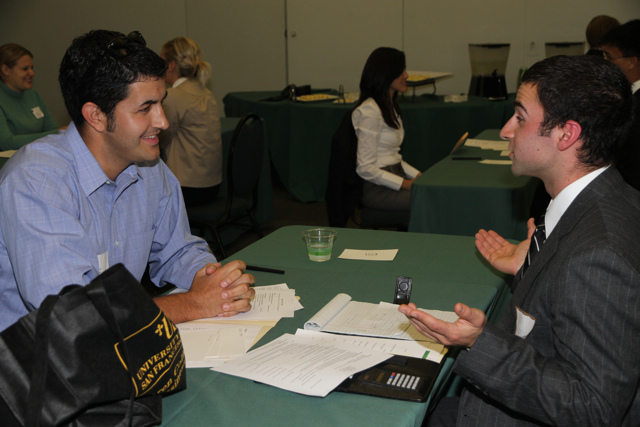 In addition to discussing the nuts and bolts of the loan terms and the responsibilities the student is agreeing to, the entrance interview also touches on the subject of consequences and penalties that come with not honoring the loan terms.
Other topics discussed during this interview include but are not limited to matters like grace periods, deferment and forbearance, consolidation, interest rates, prepayment and repayment options.
It is a lot of information to digest but students need to prepare themselves to take in everything discussed during the entrance interview and ask whatever questions they need in order to leave the interview without any doubts or worries about what to expect.
What is an Exit Interview?
The exit interview is scheduled prior to a student nearing graduation and is mandatory. Similar to the entrance interview, the exit interview is a follow-up meeting where many of the same subjects–as they relate to the specific loan(s) taken out–are covered to refresh the student borrower of their rights and responsibilities. However, the major difference that comes with attending the exit interview is that more emphasis is placed on the topic of repayment.
Student borrowers may be required to provide copies of certain types of documentation at the interview. The exact criteria varies from school to school. As a result of attending the exit interview, a student will walk away with a clear understanding of exactly how much money they owe, what repayment options are available and when the repayment process will start. A report is often given to the student, outlining the details of the loan(s), which they can use for reference when it comes time to begin making payments.
The Benefits
Without the entrance and exit interviews, students would be lost as to how their loans work. These interviews offer valuable and in-depth insight about how student loans operate and how to successfully manage this form of debt after graduation. Additionally, they give students the opportunity to connect with professionals whose job is to help them in any way possible, free of charge.