Just as being active in extracurricular activities makes for a great addition to any college admissions application, they can also help with strengthening a student's resume. Both current college students as well as soon-t0-be-college grads can benefit from learning which types of extracurricular activities can take their resume to the next level and impress any employer.
Extracurricular Activity #1: Being a Part of the School Newspaper
Becoming a staff member of your college's newspaper isn't just reserved for journalism students (although this is an obvious choice for those pursuing a journalism degree). There are a variety of positions that play a part in the operation of putting together and distributing a school newspaper. Aside from being a reporter, students can take on jobs such as becoming an editor, researcher, photographer, etc. English majors in particular will want to look into what opportunities their local school paper has to offer.
Employers find that students with this type of work experience are proficient at multitasking, working with others, possessing strong communication and problem solving skills, as well as fostering a personal and professional connection with their school and campus events.
Extracurricular Activity #2: Community/Public Service Programs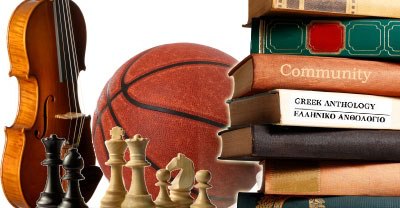 As obvious as this choice may seem, there are still many students that don't bother considering taking part in any type of community service activity. There is no shortage of such activities and programs–even the smallest college towns have plenty of openings that are in need of student volunteers. From feeding the homeless at the local soup kitchen, to cleaning up and restoring rundown areas and volunteering a few hours a week at a hospital or animal shelter, there is bound to be a cause or platform that you can be passionate about.
Nothing impresses employers more than reading about an individual's community service work on their resume. This extracurricular activity teaches responsibility, teamwork and the importance of giving back to the community.
Extracurricular Activity #3: Debate Team
Regardless of what your college major is, anyone can benefit from being on their school's debate team. Although many people see debate teams as a way to learn how to argue more effectively, the reality is that this extracurricular is perfect for helping students develop strong verbal communication skills, improve their confidence when it comes to public speaking, identify and propose solutions for issues and learn how to express their thoughts in an articulate way that requires them to think quickly on their feet.
Such traits are applicable to just about any job position in a variety of industries and are skills employers look for most in potential employees.
Extracurricular Activity #4: Tutoring
Being an expert on a particular subject is great but the ability to use that knowledge to help others is even more beneficial, especially when this extracurricular activity is added to one's resume. Whether you offer personal tutoring sessions or are a part of a program offered on campus, experience in tutoring shows employers that you have no problem with sharing your expertise and assisting others. Such skills are highly sought after in the workplace, especially when it comes to supervisor/management positions.