Being a star athlete in high school can seem like the "glory years" to a student. However, carrying over this passion into college is a process that comes with its own set of challenges. Both incoming freshmen as well as those already well into their college career can benefit from the following tips to help simplify their lives and prevent any unpleasant surprises.
Tips for College Bound Student Athletes
Plan Ahead: Do you plan on using your athletic talents to get your foot in the door to your top pick college or university? Then you'll want to start early. Aside from being an active team player at your high school, make sure your grades are up to par. Start setting up appointments with your high school guidance counselor to discuss your plans for college. The sooner you have an idea of how you want your academic path to play out, the less stressful it will be after graduation.
Know Your Major Inside & Out: Once you know what subject you want to major in, begin doing research into what the specifics are to complete your major in order to earn your degree. Don't forget to review prerequisites, the amount of coursework your major will demand, as well as if there are additional components, such as an internship. It never hurts to have a second or third major choice in case your first one doesn't pan out.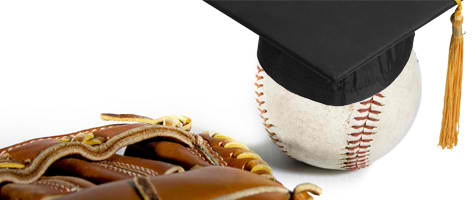 Start Saving: While it is important to apply for athletic scholarships, don't put all of your eggs into one basket. Applying for athletic scholarships is no guarantee that you'll receive free money for school. Work with your parents to fill out the FAFSA (Free Application for Federal Student Aid) to find out how much you'll need to attend college.
Tips for Current Student Athletes in College
Prioritize Your Schedule: One of the best ways to balance an academic life with an athletic one is to notify your professors of your athletic schedule once you receive it for the season. Highlight the dates when you'll be absent and work with your instructors to coordinate possible dates for makeup work or to take an exam you know you'll miss. The sooner your professors are given a heads up, the more likely they'll be to accommodate your schedule while making sure you're able to fulfill the requirements for their courses.
Switch Off: When you know there will be downtime in your athletic schedule, choose that time to take a heavier course load and vice-versa. Switching off in this manner will make life much more convenient and allow you to focus on the most important tasks on your plate.
Have a Plan B: One injury or developing a health condition can easily change a student athlete's life. However, it doesn't have to mean the end of all their goals. Have a backup plan in the works by the time you get accepted to a college or university so that you'll be fully prepared to switch over in the event that anything should set back your athletic career.