Being 18 and in college, we sometimes forget about certain basics in life.  One of those things is safety precautions.  Male or female we must remember always to be safe.  That word, safe, can mean various things to different people, but for the college student safety should be taken seriously within the different facets of your college life.  The next few safety tips may sound repetitive and redundant to you, but they bear repeating to emphasize their importance.
Traveling in groups.  Especially walking around at night, the best defense is traveling with friends.  Individuals that walk by themselves are tempting targets for theft and sometimes worse.  After those parties where people tend to drink, prearrange transportation home or arrange to walk with some friends.  There is safety in numbers.
Party Scene Precautions.  Especially for females, try sticking with drinks you know.  If you have never had tequila shots, a party may not be the time to try them out.  Unfortunately, there are a lot of shady people out there waiting to take advantage of that.  Don't make it easy for them!
Keep an eye on your drinks and who brings them to you.  It is unfortunate that you cannot trust everyone, but there are degenerates out there waiting to slip you some type of drug.  Don't be shy or afraid to dump out that questionable drink or walk away from that questionable person.
Hey, ladies and gentlemen, please always carry a condom.  Having unprotected sex can be one of, if not the worst, ideas out there.  One night's "mistake" can haunt you the rest of your life, especially with all those STD's roaming around those college campuses.  Guys and gals do not bother asking if they have something, lying is the most typical reaction when asked.  Stick with the old adage, No glove, no love!
Take a Self Defense Class.  Most college campuses offer self-defense classes that are free of charge or even for college credits as a P.E. class.   It would be a wise choice to take advantage of them.  Learning how to defend yourself can be very empowering.
Avoid Dangerous Situations.  This is the easiest way to stay safe.  As first stated, traveling with friends and being aware of your surrounding with help you avoid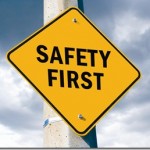 dangerous outcomes.  If you do travel alone for any reason, don't stop and talk to strangers.  If you feel like you are being followed, get to a safe location as quickly as possible.  Stay in highly lit areas at night and try to stick to where there are other people.  Shortcuts through alleys are not advisable.
Store Emergency Numbers.  Most of us carry cell phones now-a-days.  Program numbers for the campus police and the student health center, you never know when they will come in handy.
Your college years can be very enjoyable.  Keeping safe is one way of ensuring that.  Avoid those dangerous situations and learn the basics of what to do in case of an emergency.  Enjoy and STAY SAFE!