Scholarships have been around for years and are one of the most widely sought after forms of financial aid. This is mainly due to the fact that money awarded through scholarships do not have to be paid back since it is not a loan. The Internet is the most effective way for high school and current college students to find out what scholarship opportunities are available to them. To improve an individual's odds of acquiring such funds, organizations now offer a wide variety of scholarship types, which are broken down into different categories: religious affiliation, special interests, academic excellence in certain subjects, career goals and even ethnicity. However, what some people may not be aware of is that there are also scholarships aimed towards female students. Below are a few scholarships for women worth looking into if you are a female student that is about to graduate from high school or are currently enrolled at a college campus:
Calgon Take Me Away to College Scholarship Contest
What It Is: Calgon believes in supporting the community and especially female students by hosting the Take Me away to College Scholarship Contest. This is an essay based writing contest. Interested individuals must fill out the online application, which is available through the company's website in the month of October for the following school year. Winners could be awarded up to $8,000.
Eligibility Requirements: Only open to female applicants. Must be 18 years of age, a legal resident of the United States, maintain at least a 3.0 GPA and either plan on attending college as a full-time student or are already enrolled at an accredited four-year college.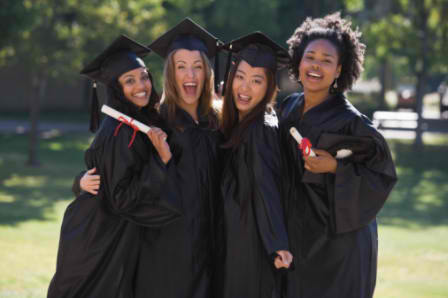 Glamour Magazine's Top 10 College Women Competition
What It Is: Glamour Magazine has its own scholarship competition to help recognize 10 women who have proven themselves in both leadership and academic roles. There are 10 scholarship prizes awarded. The grand prize is $20,000 in scholarship money and nine prizes of $3,000. All 10 winners receive an all-expenses paid trip to New York to receive their award, as well as appear in the pages of Glamour Magazine. Applicants can fill out an online application via the magazine's official website.
Eligibility Requirements: Only open to female applicants. Contestants must be a full-time junior at an accredited college within the United States (this competition is also open to female, junior college students enrolled at an accredited college in Canada).
Women's Independence Scholarship Program
What It Is: Known as WISP, this scholarship program specifically targets women, including single mothers with young children, who are survivors of intimate partner abuse that hope to improve the quality of their lives (and that of their family's, if applicable) through education. The awarded funds can be up to $2,000.
Eligibility Requirements: Applicants can be either part-time or full-time female students currently enrolled at any of the following types of schools: state supported colleges, universities and community colleges, private colleges and universities, for profit schools and technical/vocational schools. Applicants must have been apart from their abuser (only intimate partners as abusers qualify for this program) for a minimum of one year.