Among the many requirements college bound students have to meet include submitting various test scores to the colleges and universities they are interested in applying to. However, not all students are good test takers and when it comes to the almighty SAT and ACT exams, low scores could mean decreasing a student's chances at being accepted. Although there are a large majority of colleges and universities that place a lot of emphasis on the SAT and ACT test scores, there is a growing number of schools that are choosing to stand out from the crowd. Students with fears that their test scores could put them out of the running may want to look into other options, such as SAT/ACT optional 4-year colleges.
What are SAT/ACT Optional 4-Year Colleges?
As the name implies, colleges and universities that consider themselves "SAT/ACT Optional" are educational institutions that don't require test scores from the SAT or ACT exams in order for students to apply. Doing so means taking other factors into consideration, which supporters of these schools believe should be done in the first place. Many art, technical and music schools do not put much emphasis on test scores in general because they know it is not necessarily an accurate way to evaluate a student's ability to handle advanced, college coursework.
When considering SAT/ACT optional 4-year colleges, it is vital that students look up the most up-to-date information, since policies for these schools tends to change from time to time. Each college and university has its own specific rules and regulations that should be carefully reviewed. Additionally, students should also take note of the fact that some of these schools may only offer test-optional submissions from students that meet certain requirements, such as class rank or GPA.
Why Wouldn't a College Need SAT/ACT Test Scores?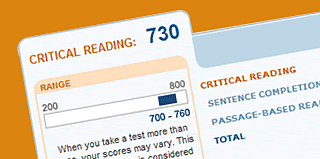 No two colleges or universities are the same. Ivy League schools, among others, are known for its stringent applications process and how vital test scores are. However, test optional schools recognize that standardized testing isn't always accurate or fair. Supporters of test optional schools know that these educational institutions realize that students are more than just test scores and value the practice of reviewing other factors, such as GPA, class ranking, participation in extra curricular activities, volunteer work, awards and academic accomplishments.
In terms of fairness, test optional schools understand that not all students are great test takers. While there are various test prep courses designed to help students increase their odds of receiving the best scores, those from low income families often don't have the funds necessary to afford such courses. This leaves them at the mercy of the tests and hoping for the best. SAT/ACT optional 4-year colleges remove this intimidating criteria from the application process, which allows students to focus on the other aspects of their application instead of worrying that poor test scores will taint their credibility.
The good news is that there is no shortage of SAT/ACT optional 4-year colleges for students to apply to. In fact, there are 700+ such schools, including the Academy of Art College in San Francisco, Boston Architectural College and Kansas State University.