It goes without saying that scores of students are flocking towards healthcare degree programs at an alarming rate. With the various areas of specialization and flexibility in requirements, any individual can get into a secure and rewarding career at a number of medical facilities. Some of the most popular online healthcare classes give students the chance to learn about subjects they'll be able to not only directly apply to their future job but their own lives as well.
From certificate programs to more advanced degrees, below are just a handful of the most widely sought after online healthcare classes that students can expect to find themselves taking.
Anatomy
It's difficult to become a practicing healthcare professional if you don't have any knowledge of the human body and how it works. There are tons of online healthcare classes dealing with anatomy. Such courses are designed to educate students about all aspects of the human body and its various functions, including the organs, skeletal system and joints. Basic knowledge in these subjects is essential in understanding how injury, disease and other forms of trauma affect the human body. Virtually all students in the healthcare field will take online healthcare classes for anatomy at one time or another–mainly during their first year of schooling.
Ethics
Learning the role of ethics is not just reserved for law students. In the medical industry, important decisions are made everyday that deal with the health of patients. Oftentimes, such decisions could literally mean life or death. From nurses to doctors and other job positions, these professionals must be able to understand the concepts behind morality, values and even cultural differences and beliefs. Online healthcare classes for ethics gives students a firsthand look into the types of situations they may find themselves in once they enter the workforce at a medical facility.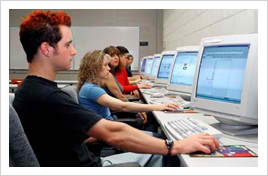 From learning the Medical Code of Ethics to the rules and regulations when it comes to legal parameters, those hoping to specialize in healthcare administration will especially benefit from the information offered by this type of course.
Pharmacology
Contrary to popular belief, the role of pharmacology online healthcare classes is not just for students pursuing a future as a pharmacist. Medical students are required to be well-rounded in their education, which includes having knowledge in a variety of areas. Taking a pharmacology class involves educating students as to how the process of prescribing medication to patients works. Proper dosage and learning how to accurately read prescription labels is also covered in this class. Because medical students will come into contact with patients and medication, it is vital to recognize the correct steps and procedures for dealing with prescribing medication.
Medical Terminology
There are many online healthcare classes for medical terminology, mainly because it is such an important part of a student's education. The healthcare industry is filled with complex jargon, vocabulary and terms that all students must know if they hope to work in the field. Taking such a course will make students more comfortable with not just knowing the definitions of various terms but how to use them in a medical setting as well.