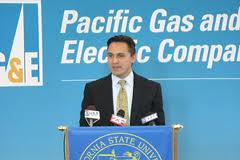 Pacific Gas and Electric Company's (PG&E) Employee Resource Group are now accepting applications from aspiring and continuing college students for financial assistance.
PG&E offers various scholarships which all college bound students who live within PG&E's Northern and Central California service area are eligible to apply.  Last year $302,000 in scholarships went to help 163 students with their college expenses.
PG&E employees actively engage in the communities in which they work and live.  Through various Employee Resource Groups, they bring their employees together and provide an essential bridge of communication to their customers.  These support groups provide their communities with offers of scholarship opportunities to those who are in pursuit of a higher education.
The Employee Resource Groups have awarded scholarships to deserving students for more than 20 years.  They collect funds from employee contributions, fundraising events, and from PG&E's corporate charitable giving program.
There are currently 10 Employee Resource Groups at PG&E, which contribute to the personal and professional development of thousands of employees and provide vital opportunities and provide vital opportunities to engage employees in service to diverse communities.  They are Pride Network, Women's Network, Samahan, InspirAsian, Black Employees Association, Latino, Access Network, Legacy, Nu NRG and Veterans.  One of the key roles these resource groups play is to reward scholarships to college bound students for their academic achievements and community service.
To apply for a scholarship, students need to submit a basic standard scholarship application and supplemental application which each resource group has available.  Each Resource Group reserves the opportunity to award funds to students who have shown commitment to specific communities or causes.  For more information on PG&E scholarship criteria and applications you can visit their scholarship website.  All available scholarship applications must be uploaded, postmarked or e-mailed to PG&E by February 1, 2013.
Do not wait until the last minute when it comes to any scholarship.  It is vital that you supply all the information needed on each and every application and that you do it in a timely and orderly manner.  Give yourself time to look over your application, especially any essays that you might have to write.  Take all applications seriously and dedicate the time and energy to each of them.  Good luck!