The healthcare field is very broad, which is great for flexibility with finding an area to specialize in but for many future nursing students, they may not be sure where to begin. Reviewing some of the top online healthcare programs is a good starting point since these programs are easy to research and receive information about.
Healthcare Management Degree Program
Medical facilities such as hospitals and public clinics operate like the well-oiled machines they are because of the dedicated staff and management personnel. Becoming a healthcare manager allows an individual to oversee the operations of a company and take the actions necessary to ensure that its employees are providing its customers with the highest standards of patient care. It is also the healthcare manager's responsibility to act as the liaison between departments, play a part in important decision making processes and make sure changes are being implemented properly.
Students enrolled in online healthcare programs focusing on management will learn all the skills required of a potential candidate in this position. Common courses include touching on topics such as medical law and ethics to federal regulations and compliance. Because the medical industry is heavily involved with the latest technology, students are also introduced to concepts dealing with staying up to date on the latest medical technological trends.
Nursing Administration Degree Program
Registered nurses interested in online healthcare degree programs will definitely want to see what a degree in nursing administration can do for their careers. Since RNs are already licensed and practicing professionals in the field, pursuing a nursing administration degree puts them on the fast track towards acquiring new skills that will make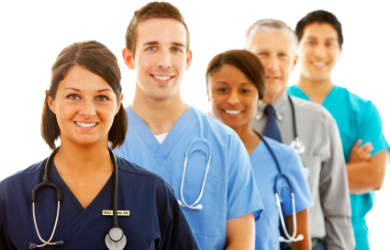 them ideal candidates for upper positions in management. Graduates of these online healthcare degree programs could go on to find themselves involved in areas like training, budgeting, evaluations and human resources.
In addition to becoming a more viable candidate for higher positions and better pay, RNs with a nursing administration degree have the doors open to them to pursue more advanced degree levels.
Physical Therapy
While most people do not put physical therapists and healthcare into the same category, the reality is that this career choice is one of the most in demand online healthcare programs available today. Professional physical therapists use their skills and training to improve their patient's overall health through physical conditioning, special exercises and educating them about preventative measures to avoid and/or restore mobility due to an injury or condition. Physical therapists find employment in nursing homes, rehabilitation centers, schools, hospitals, HMOs or go into private practice.
Students looking into physical therapy online healthcare programs will be introduced to what is known as clinical clerkship, which acts as an internship to put students in direct contact with professionals in the field as well as patients at a predetermined medical facility. In addition to participating in clinical rounds, students will also study subjects such as neurophysiology, kinesiology, physical restoration, functional anatomy and pathophysiology, among many other types of courses.
These three online healthcare programs offer students the opportunity for advancement not just in their professional careers upon graduation but in terms of obtaining a higher degree (Bachelor's, Master's or a Doctorate).