Pursuing a career in the Business field is going to require an individual to have general knowledge in a number of subjects. Well rounded business professionals know exactly how a company operates from the inside out, as well as the importance each department and its employees play. When earning a Business degree, students attending an online school will want to make sure they are taking the essential online business classes that will put them on the right track towards obtaining a fulfilling and rewarding career upon graduation. While each school has its own list of preferred courses, below are some of the most basic online business classes students will want to check out:
Business Accounting Online

Taking basic accounting courses is ideal for teaching business students how to understand the concepts that relate to the way a business handles it's finances. This subject deals with theories and practices that help students learn how accountants keep track of their company's budget, handle payroll, monitor the amount of money coming in versus the amount of money going out, etc. By recording the details of such transactions, a business is able to keep on top of their paperwork and provide accurate documentation of its dealings, especially when it comes to planning, control and implementation.
Online Finance Classes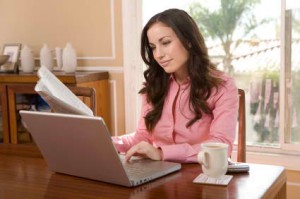 It is important for students to enroll in online business classes dealing with finance for the simple fact that without money and knowing how to handle it, no company can survive. Taking this type of course introduces students to concepts such as budgeting (how to create, manage and implement them), understanding how the stock market and economy works and learning how to make sound financial decisions. Knowledge in these subjects properly prepare students for real life situations where they may be responsible for creating a budget, deciding if the company has enough funds to give employees a raise or how to deal with cost of materials.
Online Management Classes

Online business classes focusing on management are especially vital for students to take because it teaches them the importance of working not just as part of a team but how to lead one as well. Even if an individual has no interest in assuming such a position, knowing the ins and outs of managing others, as well as understanding the common practices involved all contribute to the ideal employee that companies love to hire. Not only do students learn how to delegate tasks and organize projects according to priority, they also gain knowledge about how to deal with problem solving, develop stronger verbal and written communication skills and how to control operations so that projects are delivered on time and according to a client's specifications.
Online Business Ethics
Taking online business classes for business ethics is a good way to help students receive a well-rounded education in dealing with other individuals and companies in the real world. Knowing how to handle difficult situations where others may not be operating ethically is crucial to any businessperson. The morals, values, cultural beliefs/differences, corporate social responsibility and consumer rights taught in this class can help any business grad properly tackle issues that may come up in any department, regardless of company size and industry.