Moving away from friends and family and settling onto a new campus in an entirely different city/state can be difficult for any college bound student. Those that have relocated to completely unfamiliar territory have their own set of challenges to face when it comes to fitting in and getting to know their new community. However, as the popular saying goes, "There's an app for that." Literally! Whether you live in a college town that's small or large, the MyCityWay app is designed to make sure you know your neighborhood like the back of your hand.
What is the MyCityWay App?
Like any app, it's primary purpose is to make your life easier. College students that don't know where to go for the best eats, shopping, nightlife and other necessities can turn to the MyCityWay app to assist them in learning their way around town. What makes this app so nifty is that it operates in real time.
What Devices Use the MyCityWay App?
The app is currently available on the Android, iPhone, Blackberry and iPad. Additionally, downloading the app is free of charge–definitely a perk for the average starving student.
What Makes It Different From Similar Apps?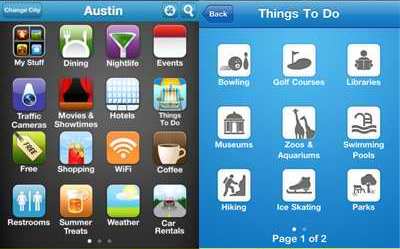 At first glance, the MyCityWay app might appear to work like any other app when it comes to searching for things around town. However, what sets this app apart from the rest is the cross-platform technology it uses to report its search results to students in real time. In order to report the most accurate findings, MyCityWay uses several different app platforms instead of just going for the easiest one to access.
As if that isn't enough, the options for the themed searches students can choose from gives them the opportunity to really narrow down exactly what they're looking for with little to no effort. Some of these themed searches include:
Things To Do: Sure, a lot of cities/towns have "things to do" but most times the gems of a town go unnoticed by some review sites and other resources. MyCityWay gives you the 411 on activities and events that are truly unique to your city.
Restrooms: When you've gotta go, you've gotta go. Sometimes it can be hard to find public restrooms, especially if you happen to be in an area where the local businesses will only allow you to use their restroom facilities if you're a paying customer. This themed search shows you the way with no worries.
Traffic Cameras: Want to make sure the road is traffic-free before you get in your car? The traffic cameras search actually taps into the traffic feeds, giving you up-to-the-minute traffic reports. Using this tool will guarantee you'll get to where you're going on time.
Dining: The dining search does more than just help you find your favorite restaurants to eat at. The results also provide you with additional info, such as what the atmosphere is like (if you're looking for a good date spot, you probably don't want to eat at a place that's swarming with families and young children).