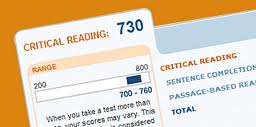 If you are unhappy with your SAT scores thinking they are too low, there are a few things that you could do.  Take the time and consider your options and make the best choice for your particular situation.  The following are a few suggestions of what you can do if you feel that your SAT scores are just not up to par.
Preparation:  Trying to avoid the low score would be to be prepared when you take the SAT.  Consider hiring a tutor or at least obtaining resource to help you study beforehand.  There are many books and practice tests available.  By practicing you are preparing yourself for this very important test.  Practice makes perfect or at least closer to perfect than if you do not get that extra help.
Retake the SATs:  If you decide to retake the SATs, be sure to study (as above).  It is not recommended to retake it too many times, because that sends a negative message to schools also.  If retaking the SAT, make sure you do it in a timely manner.  Many schools have cut off dates to accept your SAT score, so retaking it too late will cause your scores not to be counted.
Research the Way Schools Evaluate Multiple Scores:  Schools use different ways to evaluate multiple test scores.  "Score Choice" will allow you to submit the best SAT score and then there is "Super Score" which will take the highest sections that may transfer over different SAT dates.  Check out school's websites to find out which way the school you choose accepts SAT scores.
Try a Different Test:  The two tests that schools usually accept are the SAT and the ACT.  If you have a low SAT score try taking the ACT.  The SAT is considered an aptitude test and sometimes requires educated guessing.  The ACT is a test of achievement and actually test how well you do in content knowledge.
Consider Schools That Do Not Require SATs:  Some students are just not strong test takers, so no matter how many times the SAT is taken it just will not improve your score.  There are some schools that are "test optional" schools.  You can apply to these schools without submitting a test score, but they do have other requirements and criteria that you will have to follow.  This may be the right option for you, if you fall into this category.
You have options available, so do not fret over a low SAT score.  Good luck to you.