First it was the cell phone. Next, it was the laptop. And now the iPhone and iPad. Each year it seems there is a new gadget for techie lovers to play with. College students–not surprisingly–are among the most common consumers of such products. As a result, many app developers are having a field day targeting this specific demographic. Current owners of either or both devices who also happen to be college students will want to make sure they're in the "know."
In Demand Apps for the iPad
The EverNote App: This free app gives students the ability to type notes easily, as well as record live audio, which comes in handy for long lecture courses. Additionally, the EverNote App makes it possible for students to view and print their digital notes by plugging in their iPad into any PC. The files saved through the app are automatically backed up on the EverNote website. All a student has to do is plug in their iPad and login to the EverNote site to retrieve their files/notes.
The Cramberry App: Flash cards have been used as vital study aids for years. However, students wishing to take their studying to the next level have the option of downloading the Cramberry app for $3.99. Cramberry creates virtual flash cards that can be customized and tailored for any student's preferences. Like the EverNote app, Cramberry also has its own official website, where users can create, save and download their unique flash cards.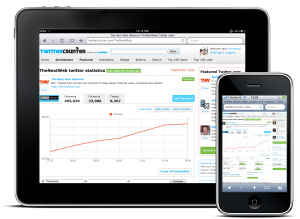 The APA App: Never cared for learning the tediousness involved with writing according to the American Psychological Association style (APA)? College students now have the opportunity to make this aspect of their creative writing course easier by downloading the APA app, designed to help students better comprehend the specifics in terms of style, format and other related topics.
In Demand Apps for the iPhone
The Chegg App: Whether hard copy or digital, virtually all college students need textbooks to supplement their courses. However, if you're tired of shelling out tons of money for textbooks, why not rent them instead for a more affordable price? Using the Chegg App makes this possible. After downloading the Chegg App, all a student needs to do is scan the barcode of the the textbook they're interested in and the application will pull up versions for rental (if available).
The Blackboard Mobile App: Because of the popularity of distance learning, more and more students are enrolling in online colleges and universities. Blackboard is one of the most widely used platforms that allow for virtual classrooms, where students have access to course materials, interactive forums and other resources for their courses. The Blackboard Mobile App lets students stay up to date on their courses right from their iPhone.
The Graphing Calculator App: Math students no longer have to shell out a small fortune on a graphing calculator. For $2, students can download the Graphic Calculator App, which is exactly as it sounds…a fully functional calculator that's accessible on the iPhone.