CSULB Announces Admission Requirement Changes – Fall 2013 – As of May 17, 2012, California State University, Long Beach (CSULB) has adopted new admission requirements for transfer students effective Fall 2013.  This change specifically looks at the new Impaction Framework and emphasizes major coursework preparation.
Beginning with the Fall 2013 admission cycle, all majors will become "impacted." As a result, all majors will have major specific admission requirements.
Local Service Area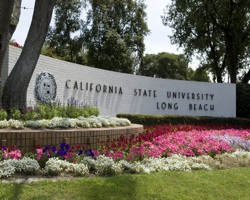 Except for highly impacted, space-constrained majors: CSULB will define the local area based on applicants' high school of origin, using the same geographic boundaries as for freshman admissions.
Military and Veteran Students
All military veterans will also be treated as local. CSU eligible local applicants who have completed the Minimum Transfer Major Preparation will be admitted to CSULB. All other CSU eligible applicants who have completed the Minimum Transfer Major Preparation will be admitted to CSULB based on applicant rank on criteria, recommended additional preparation courses completed, and space availability.
Highly Impacted Majors
A few impacted programs are highly impacted and space-constrained: Nursing, Social Work, Kinesiology and Arts programs requiring talent auditions and portfolios are in this grouping. Specific programs are identified in the major-specific criteria. For these programs, all CSU eligible applicants who have completed Minimum Transfer Major Preparation will be admitted to CSULB based on applicant rank on criteria, recommended additional preparation courses completed, and space availability without a local preference.
SB 1440 Students (Transfer AA Degree) – California Community Colleges
Transfer AA degree students: For CSULB degrees that have been deemed "like" respective community college transfer associate degrees (Associate Arts Transfer/ Associate Science Transfer) in the state-wide Senate Bill (SB) 1440 process, academic admissions criteria will be a subset of or the same as the community college transfer associate curriculum for that "like" major. SB 1440 rules award a small grade point average increase for applicants who have completed transfer associate degrees.
Lower Division Transfer Students
CSULB will remain closed to lower division transfer students except for highly qualified nursing applicants, who may be considered. CSULB will no longer consider lower division Engineering applicants.
Learning Disabilities
A small number of admissions requests through the Stephen Benson program for disabled students will continue.
Transfer Agreements (TAG)
CSULB plans to continue our STEM-TAP (Science, Technology, Engineering, Mathematics Transfer Access Pathway), which is based on agreements with eight community colleges and provides for guaranteed admission of transfer students who meet rigorous requirements in STEM fields.
CSULB also plans to continue to participate in transfer articulation agreements with a small number of community colleges that bring highly qualified students into our Liberal Studies Integrated Teacher Education Program in a streamlined manner.
CSULB –Major Specific Transfer Admission Criteria for Fall 2013
Important Items to Note:
Transfer students must continue to apply during the initial filing period and declare their intended major. Applicants will only be considered for the 'primary' major listed on their application.
Courses must be completed by the prior spring to be considered for fall admission and by the prior summer for spring admission. Major preparation courses must be completed with a C or better.
Applicants will be required to complete a supplemental application to self-report major course preparation. This will be completed in late January for Fall admission consideration.
Transcripts will be required to verify eligibility for students who are offered admission. For Fall admission, these will need to be submitted in April.
Admitted students must continue to accept their offer of admission and submit an enrollment deposit. This deadline is currently June 1. New transfer students continue to be required to attend orientation as well.
How will students be considered for admission (Except highly impacted programs)?
CSU eligible applicants who are considered 'Local' based on their high school of graduation or their military veteran status will be offered admission if they meet the major specific minimum cumulative GPA and required lower division preparation.
Other CSU eligible applicants who have met the major specific minimum cumulative GPA and the minimum required lower division preparation will be admitted based on a space available basis based on the additional preparation courses completed if specified in the criteria and their cumulative GPA.
If space is available after all students meeting the minimum major GPA and preparation have been accommodated, then CSU eligible students without the minimum major preparation will be considered.
Students admitted to the major who have not completed the additional recommended transfer requirements or the additional CSULB requirements must complete them in their first year at CSULB
Admission for student completing an approved and 'similar' Transfer AA degree:
Under current agreements, the cumulative GPA will be increased by a 0.1 bump and this 'calculated GPA' will be applied to the major specific minimum GPA and to any GPA used in the ranking of applicants.
The Transfer AA degree curriculum is used in lieu of our specific course requirements as well as any additional recommended preparation.
*For more information on specific major impaction at CSULB or to discuss your specific situation, please see your college counselor for assistance OR check in to the CSULB website for further updates*