Those high school students wanting to attend college are busy filling out those college applications right about now.  Gaining admission into a college, though, comes with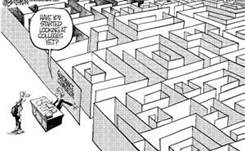 many challenges.  The college applicant pool is fairly large, so it is important that students do what they can to maximize their chances for college admission.  With some advanced planning and careful thought and effort, possibilities for admission increase.  Here are a few helpful hints to hopefully help those future potential college students along the way.
Take College Prep or AP Courses:  Do not try to fly by high school without challenging yourself.  Take those challenging college preparatory classes and the advance placement courses.  Taking those classes and getting good grades will help maximize your chances for college admission.
Good SAT Scores:  Take the SAT seriously.  Colleges look at those SAT scores.  Consider taking a SAT preparation course or prepare by buying books and/or other material to help you study for the SAT.  Practice as much as you can to help get a high score.  Retake it if your score is not up to par.  The higher your SAT score, the better your chances of gaining a college admission.
Extracurricular Activities:  Get out there and get involved.  By getting involved in various activities and showing a commitment in them, it will show colleges that you are more than just a "bookworm," but an active community member.  Colleges like seeing that you are involved and taking on leadership roles.  They like to see a high level of involvement in a few activities rather than little involvement in many different activities.
Use your Summers Wisely:  Take advantage of those summer months.  Taking extra summer classes or volunteering will say much on those college applications.  It will show college admissions committees that you made the most of your summer vacation time.
Make yourself Known to the College you Plan on Attending:  Make sure the college that you want to attend knows you.  Show your interest by writing or calling the admissions office.  You might want to visit the campus and talk to some of the faculty or choose a professor in the field that you want to study to talk with.  If you are planning to play a sport, contact a coach.  Plan an interview with an admissions officer giving them a chance to get to know you on a personal level.
There are a lot of things to think about while you are in high school.  Do your best and concentrate on your studies and on ways to help yourself obtain that admission to the college of your dreams.  Good luck!