Not everyone believes in the saying, "College isn't for everybody." With many public schools under performing and students falling through the cracks, many academic experts and professionals are looking for solutions to improve the chances for students that may not have the means, support or proper motivation to pursue a college education. One possible solution is being offered up by Kwame Brown, who is the Chairman of Washington DC's City Council. However, there is much debate over the proposed DC law and whether or not what it is asking of students crosses the line.
The College Preparatory Plan Act
Should Brown's College Preparatory Plan Act become an actual law, all high school seniors in public schools within the Washington DC area will be required to apply to at least one college or university, in addition to taking the ACT and SAT tests. To take things up a notch, the College Preparatory Plan Act would be a graduation requirement. What this translates to is that students who fail to satisfy this requirement will not be allowed to graduate from high school.
The Purpose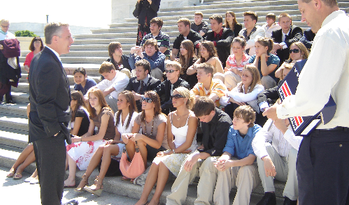 According to Brown, the College Preparatory Plan Act would be a step in the right direction by giving all high school seniors the chance to go to college, as well as increase the graduation rate for the DC area. As far as concerns about the high cost of attending college, which many students and their families cannot afford, Brown points out that the DC school system has more than enough money for those purposes and that it's up to the students to take advantage of the opportunities presented to them.
If his law is to be passed, Brown says that the College Preparatory Plan Act would be gradually phased into the public school systems. To prevent any unpleasant surprises, all incoming high school freshmen and their parents would be aware of the new graduation requirement, giving them plenty of time to prepare academically by the time they reach their senior year.
Debate
Critics of the proposed law claim that students should not be forced to apply to colleges, especially if they have plans to pursue a trade instead. However, Brown (who supports and approves of academy style schools that teach students a skilled trade) believes that there is no harm in asking students to simply try and see what happens. In his past experiences and interactions with students, Brown states that many of the students he speaks with have voiced their opinions on matters, such as how they wish they had someone to show them how to do things like fill out college applications, learn how to take the SAT and ACT tests, as well as their desire to be the first in their families to get a degree.
Brown's desire for the College Preparatory Plan Act is to show students that they are capable of going to college and helping them debunk false impressions they have been given over the years about all the challenges that come with wanting a college education.