Summer is almost over and it will soon be time to start school.  If you are a starting college freshman, your nerves may be on edge with many questions.  Will I be able to keep up with the workload?  Will I be able to find all my classes?  How hard will my classes be?  And so many more questions will be arising as the time gets closer to start.  With all these questions one of the last things on your mind may be how will I meet new friends?
College is a new beginning for students.  You will meet many people and make new friends that will become part of whom you are or who you want to become.  You may start the year a little nervous about meeting new people because you want to focus on your education, but meeting new friends is as much a part of the college experience as your classes will be.
You may be an outgoing person and know exactly what to say or do when meeting new people or you may be the complete opposite, a shy introvert.  No matter which type of person you are the following are just a few tips to help you in the process of making new friends.
Classmates:  One of the easiest ways to make new friend is with those in the same classes that you are taking.  Try getting to class early on the first day and hang out for a bit.  As people arrive you can ask if you are in the right place or have they heard anything about this class.  You can then introduce yourself explaining that you are a new freshman.  From there it may be easy to open up a simple conversation about where they are from or their major and the list can go on.  Try this with each of your classes and see where it can lead.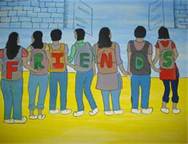 Dormitories:  If you are living in a dorm setting, look up activities that you can participate in.  Dorms typically have various activities such as movie nights, student lounge events or even a volleyball game.  Go to as many as you can, you are bound to find friends with similar interests and majors.
Organizations/Intramural Sports:  For those living off-campus, or not there are also many organizations around campus that you should consider joining.  Joining an organization that means something to you is the first step in meeting people with similar interests.  Joining fraternities or sororities will help you create close bonds with other students and become great networks in future endeavors.  Sports teams are also great and helps everyone involved become a team player.
Of course these are not the only ways to make new friends.  As you start your college years, you will find other ways to involve yourself on and off campus becoming part of the community to which you have committed the next few years.  Have fun and good luck with your education