A career in the automotive industry is the perfect fit for students that want a hands-on career and enjoy tinkering with cars. As far as job outlooks go, the Bureau of Labor Statistics projects that job openings within the automotive industry will continue to rise steadily by 17% until 2020.
Although working in the automotive industry doesn't necessary require a traditional college education, there are special schools and training programs that are essential for students to have a shot at being considered for employment. As with any other type of schooling or training, there are costs involved. However, financial aid assistance is available for those with demonstrated financial need. Of course there is also the possibility of applying to traditional colleges and seeking scholarships and grants that can be used at those institutions.
Most students are aware that the types of scholarships out there vary widely, with many of them focused on specific industries and/or niches. The automotive industry is one of them.
Buick Achievers Scholarship Program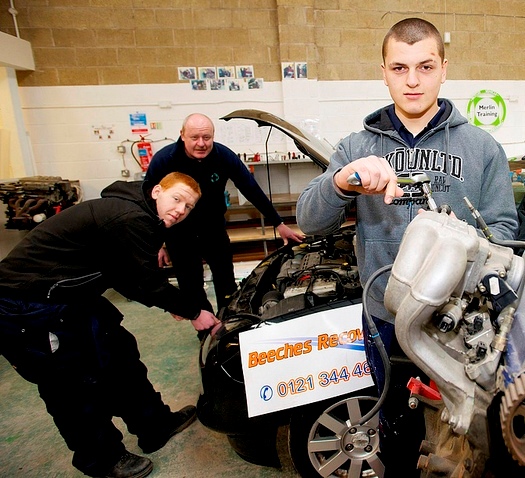 The Buick Achievers Scholarship Program is committed to awarding financial assistance to students that serve as examples of positive members/leaders within their communities, as well as in school.
100 scholarships are awarded in the amount of up to $25,000 per year, which are renewable. An additional 1,000 scholarships are also given out in the amount of $2,000 per year (these are non-renewable).
To be considered as a candidate, one of the main requirements is that students must plan on majoring in any of the following fields (as well as have a strong interest in the automotive industry):
Engineering
Design
Technology
Business
High school seniors and those currently enrolled as undergraduates at a college or university are eligible to apply for the Buick Achievers Scholarships Program.
Employees of AutoZone or their children (who must be dependents) become eligible for consideration for the company scholarship, which is awarded in the amount of $3,000. In 2011, AutoZone selected 15 high school seniors as recipients of their scholarship.
SEMA Memorial Scholarship Fund
The Specialty Equipment Marketing Association created the SEMA Memorial Scholarship Fund to help students reach their goals of gaining employment in the automotive industry. However, this particular financial aid opportunity is not open to high school seniors. Applicants must be currently enrolled full-time at either a traditional 4-year college or university, 2-year community college or vocational/technical program.
The top recipient is awarded $4,000, while other additional scholarship amounts range from $1,000-$2,000. There is even a SEMA Loan Forgiveness Program, which offers $1,000 awards to graduate students with outstanding student loans who also happen to be employed by a SEMA member company.
The Automotive Women's Alliance Foundation Scholarships
Female students working towards a career in the automotive industry may want to consider becoming a member of the Automotive Women's Alliance Foundation, which distributes select scholarships of various types and amounts on a quarterly basis. However, non-members with goals for a career in this field also have a chance to apply for consideration.