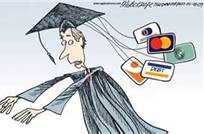 Your college years bring on many new and exciting things in your life.  It can be a whole different lifestyle than what you thought of, so it is important that you go into it with your eyes wide open and ready for almost anything.  A big part of college, which sometimes we just do not think of, is our financial responsibility.  It is extremely important that you have in mind a plan on how to handle yourself and your finances.
This part of college is sometimes very difficult.  Making it through your freshman year and beyond without racking up unnecessary debt will help you in the future.  The following are a few suggestions on how to keep on top of your finances.
Be careful with credit.  Signing up for credit cards for the "free" stuff they love to give away sounds great, but you can be sure you will "pay" for it later.  Think twice before signing up for credit cards just for the freebies.  You are usually looking at a high interest, annual fee card that you really do not need.
Credit cards are not free money, but if you think you can handle one without going overboard start with a low limit one that offers points or other rewards.  Make sure to pay off your balance monthly because late fees can and will add up.
Stick to a budget.  Create a budget for yourself.  It does not have to be a huge elaborate one, just outline how much money you receive monthly and what you NEED to spend.  Make sure to include some "extra" spending money and try to avoid that ATM machine which can push you over that budgeted plan.  Try and track your spending to make sure you are sticking to you budget.  Many banks make this easy online, look into it.
Start a savings.  Sounds funny to many, but if you start saving now sticking a little in an IRA by the time retirement age comes around you just might be set.  You may also want to skip on that pizza or a couple of pitchers of beer a week and save for emergencies.  One just never knows when one may arise.
Use those student perks.  All around town there are many places that offer discounts to students.  Take advantage of them.  Even check out the campus cafeteria, they may have a great plan for students.  See if it would benefit you to enroll in that or buy your food elsewhere.  This includes not paying full price on textbooks.  Look online for you books and buy used when possible.  Anytime you can save a buck, do it.

It is up to you to set your limits and follow through.  Many college students leaving owing quite a bit, but by budgeting and tracking that budget, it will be a lot less.  Good luck.