The concept of the "working mom" is nothing new. In fact, it's become a very popular lifestyle choice for women with families for years now. Women thinking about becoming working moms have a number of important decisions to make. A few include:
– What type of job am I well suited for?
– Will I need to go back to school?
– How much money am I interested in making?
The 3 career choices listed below are ideal for working moms because they don't typically require an extensive amount of training/schooling like a 4-year degree, can bring in a decent salary and allow for a flexible schedule that makes it convenient to balance the priorities of work and family.
Yoga Instructor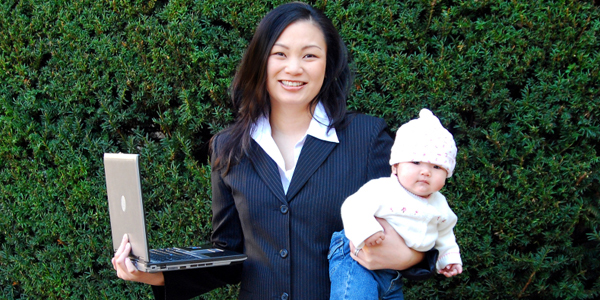 Many mothers swear by yoga and if you happen to be an avid fan of this activity, why not turn your passion into a career that will allow you to work from home? Getting started is as easy as finding an accredited training/certification program.
It is a good idea to first find out what the minimum requirements are and what employers want from job seekers. Knowing this kind of information beforehand makes it easier to narrow down which training program to participate in.
The majority of yoga instructors are self employed, which means taking on clients and teaching classes when it is convenient for you. The more experienced and in demand you are as an instructor, the better your paycheck will be. The median annual pay for yoga instructors is a little over $53,000/year.
Dental Hygienist
Becoming a dental hygienist isn't as difficult as it may sound. An associate's degree is enough to get your foot in the door and there's no shortage of various types of ways to go about completing your education and training. You can choose from online schools or if you want to get out into a traditional classroom environment, many community colleges have dental hygienist programs, which tends to be a much more affordable choice.
Once employed, you'll be able to enjoy a part-time schedule and can choose from working in a private dental office, public health clinic, hospital or dental school, to name a few. The career choice of a dental hygienist can also be a profitable one–the median annual pay is approximately $67,300.
Life Coach
What better candidate for a life coach career than a mother? While this job calling isn't for everyone, those that have a knack for relating to others and can remain objective will find themselves right at home in this type of job. Life coaches are their own bosses, meaning they can decide how many clients to take on and even what rates to set.
The nature of this profession also means the ability to see clients at home or rent an office space for sessions. The more experience a person has, the higher of a salary they can command. Newer life coaches can earn anywhere from $23,000 – $75,000/year, while those with extensive experience can easily bring in up to six figures per year.