Attending a traditional college or university isn't for everyone. Individuals that would rather prepare for a hands-on career have a variety of options to choose from. Although some of these job positions don't require a regular degree, proper training, education and work experience is vital for getting into the industry the right way. Becoming an HVAC technician is one profession that has grown in demand over the years. With employers in need of qualified candidates, the job opportunities are ripe for the taking.
What Do HVAC Technicians Do?
HVAC is short for "heating, ventilation and air conditioning." HVAC technicians are highly trained professionals that specialize in the installation, repair and maintenance of all things related to heating, ventilation and air conditioning equipment. Keeping these systems in working order ensures proper control of air quality inside of buildings.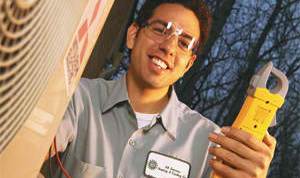 Because nearly all buildings,–including residential and commercial properties–have some form of heating and AC, the need for such technicians is always constant. What that translates to is job security.
How Much Do HVAC Technicians Get Paid?
In addition to job security, HVAC technicians get paid very well for their skills. In 2010, the average hourly rate for an HVAC tech was over $20 per hour. Individuals with considerably more experience and specialized training have the potential to make well over that amount.
What Type of Training is Required?
For people that enjoy being hands-on with their work and aren't geared towards traditional classroom education, the good news is that the path towards becoming a professional HVAC tech doesn't require a 4-year degree from a college or university. Some form of tech school education is needed, however, but many institutions provide on-the-job training, paired with classroom instruction, as well as apprenticeship opportunities. Participating in an apprenticeship or similar training program typically takes between three to five years.
When researching training programs, it is important to note if there are additional requirements needed aside from completing the program itself. For example, in some states, obtaining a special license is mandatory for HVAC technicians to work professionally in the field.
The Benefits
Becoming an HVAC tech is an ideal career choice for those that have always wanted to work with their hands and have a well paying career that doesn't involve working in an office environment. As stated earlier, the job security for this profession is perhaps one of the most appealing aspects. The job growth for HVAC technicians is projected to jump to 34% from now until 2020. Compared to other job positions, that is a very fast rate, which means even more job openings that need to be filled in the years to come.
HVAC techs get to work onsite in different environments, which means no boring, daily routine. Individuals that enjoy light travel and interacting with different people will like this perk of the job. HVAC techs can choose to work for a company or become self employed. While both has its own set of pros and cons, working for a company typically means receiving a generous benefits package, including health and dental, among other perks.