Virtually all students know how important it is to do a good job when it comes to putting together their college applications. One mistake or error and their submission could be rejected automatically–even if everything else looks stellar. Unfortunately, as much as college bound students say they take the time to really review their applications, the truth is that there are still a number of individuals that continue to make the same mistakes.
Taking the time to proofread one's application can be a life saver and is an easy way to avoid any mishaps when submitting applications to colleges and universities.
Proofreading is a Must
Sometimes this act is so simple, it gets thrown by the wayside. Students need to understand that proofreading is about more than just catching typos and grammatical errors. Most college applications come with a lot of parts to it and it is essential that each part be reviewed carefully before hitting the "Send" button or sealing the envelope shut.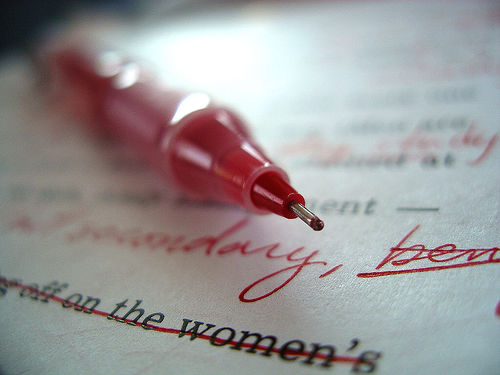 Beyond the typos and grammatical errors, proofreading is crucial for making sure that any written portion of your application makes sense, is cohesive and answers the questions/prompts.
What you write and how it is received by the college admissions staff is a direct reflection of who you are. Remember: your application has to speak on your behalf since you can't be there in person.
Don't Get Comfy with the Copy & Paste Function
Doing the "copy and paste" is a convenient and fast way of saving time when filling out applications or writing personal statement essays. Choosing this method is recommended in situations where a student is applying to several colleges and universities with essay prompts that are similar. But this process shouldn't just consist of the copy and paste method alone.
No matter how careful you think you may have been, you always want to proofread all the essays you plan on submitting–especially if copying and pasting played a large part. While this tactic is great for inserting entire paragraphs in one click of the mouse, you still need to go back in and replace school names, any school-specific references, etc.
After making those corrections, proofreading must be the icing on the cake. Sure, modifying takes care of certain things but does the essay still make sense after the changes have been made? Only proofreading can answer this.
Check the Basics…Period
Ever thought it was funny that students get points on the SAT test for spelling their names correctly? As humorous as this fact is, the sad part is that there are students who spell their own names wrong without even realizing it. When filling out the basic information on each college application (name, mailing address, phone number, email address, etc.), use proofreading to make sure that everything you've entered is 100% correct. Assuming you'd never make such a mistake increases your odds of submitting a college application that has this type of error on it.
Even if you were to bet money on your attention to such detail, the risk is definitely not worth it.