There are a variety of online colleges and universities students have the ability to choose from, including online nursing schools. However, enrolling in a virtual educational institution can be somewhat of a culture shock to students that have been accustomed to the traditional classroom environment. New nursing students will find it easier to make the transition by having some kind of idea as to what they can expect when they begin taking their first round of online nursing classes.
Online Nursing Classes
Since online nursing classes take place on the Internet, students will need to have reliable Internet access via a desktop computer or laptop. This arrangement makes it ideal for students to complete their coursework and assignments from home, while traveling or any other location. Unlike the traditional method of attending college, being a student in an online nursing class means using the Internet to gain access to everything, including your textbooks and assignments. Your instructor will provide you with a list of links and online resources, directing you to the proper place to download your books and other paperwork for the class.
Nursing Courses
Online nursing classes involve a lot of reading and writing assignments but instead of printing them out and turning them in to your instructor, you'll more than likely end up emailing your homework or uploading it to a designated server as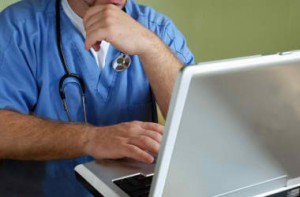 instructed by your teacher. Any processes that take place online in relation to your coursework will be explained in detailed prompts, which you'll be provided with in the beginning of the course. These step-by-step instructions make it easy even for students who may not consider themselves very tech savvy. Any exams or tests will also be given online so students must become comfortable with logging into their account and/or visiting the proper website in order to register and complete the test.
In addition to turning in homework online, a majority of online nursing classes require students to participate in virtual discussions with their other classmates and the instructor. Blackboard is one of the most widely used platforms, which is specially designed for students and teachers to interact with one another virtually through forums. Blackboard is also a place where instructors make coursework material, resources, messaging and other capabilities accessible to students. Oftentimes, the bulk of the classwork takes place directly on Blackboard. This is convenient since it keeps everything all in one place so students don't have to deal with multiple sites and accounts to manage.
Clinical portions to Online Classes
Online nursing classes also come with a clinical portion, which requires students to attend a medical facility local to where they live. Here they receive hands-on experience by training alongside professional nurses and other medical professionals in a real-world setting. Although the coursework itself is online, in order to become a licensed, practicing nurse, graduates must have a certain number of hours dedicated to clinical rounds. The online nursing school a student chooses will provide them with a list of locations to choose from. It is the student's responsibility to create a schedule for attending their clinical rounds.