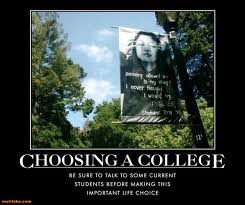 The U.S. has hundreds of great colleges and universities, so choosing only one to attend can seem like a daunting task.  You start receive solicitations to many of these colleges via email, telemarketers, college fairs, radio and television ads, and of course regular old direct mailing.  With so many to choose from, where do you begin?
Focus on the type of school that will best meet your needs and interests.  There are so many "types" of schools that are out there.  Ask yourself a few questions which will narrow down your choices.
Are you looking for a two year or a four year school?
Do you want to attend Christian school or one without a religious affiliation?
Do you want to stay close to home or the very opposite?
Would an urban, suburban or rural campus be your choice?
Would you like to attend a school with a large student population or a small one?
Answering these questions early on in your in your academic career will be very helpful in ironing out your other college "requirements" (what you are looking for in or out of a college).  Along with answering these questions, ask many questions.  Talk it out with your parents or other relatives that have attended college.  Ask to see your high school guidance counselor who can be very helpful when it comes to giving you information on various schools.  Do not wait until you are called in to see a counselor or for your parents to talk to you.  Take the initiative and ask around.
Consider what each school has to offer.  After deciding on the type of school in order to narrow your choices even more look into what each school has to offer.
Academic Standards:  Look through a specific school's admissions material or talk to the admissions office to find out the academic profile of the "average" student.  See if your test scores and grades fit in there.  This will give you a little insight to the chances you have in being accepted.
Majors/Programs:  Some schools will have stronger programs for your specific major or certificate that you are looking to graduate with.  Ask about the programs that you are interested in and you may want to speak with students that attend that school and that have the major you are considering.
Graduation Rate:  Find out if the graduation rate and the drop-out rate are high.  This will give you some perspective of the quality of education you will be receiving.
Professor to Student Ratio:  This can be important to you in the type of school you were hoping to attend.  If the ratio is quite high, you will be competing for your professor's time.
Resources:  Research the type of academic help you can receive.  Are there tutoring centers available?  Are there established study groups in session?  Does the campus have a Writing Lab with computers available for use?
Plan a campus visit.  You can research the academics and the resources available on the internet, by pamphlets or other materials, but only a campus visit can show you if you might be "comfortable" there.
This can be difficult, especially if the schools you want to attend are far away, but it is highly recommended that you take the time to visit a few campuses.  This way you get a first- hand look at the campus, dorm-living,
Cost of attending can be a small factor.  As you well know it takes money to go to college, but do not let this be a determining factor in your decision.  With so much financial aid in forms of scholarships, grants, government assistance and many others, this factor is of little consequence.
Whatever college you choose to attend, it is a step in the right direction.  Good luck!